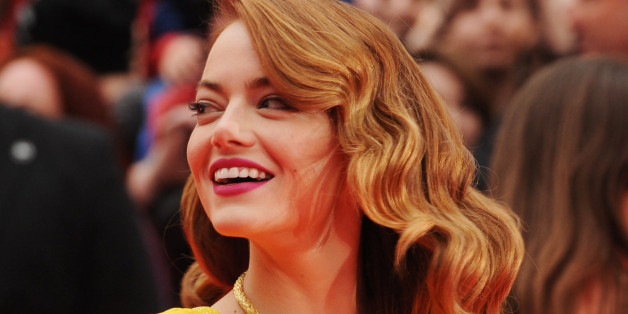 Emma Stone is a huge fan of Jennifer Lawrence, and who can blame her?
The "Amazing Spider-Man 2" star gushed about the Oscar-winning actress during an interview with U.K. fashion blog Stylist. The topic of Lawrence came up when Stone was asked about the hilarious shout-out she got from the "Silver Linings Playbook" star on the red carpet at last years' Oscars.
"Well, I just think she's great, isn't she?" Stone said. "She is so inspiring to me, and I am so grateful that she exists in the world, as someone who is authentic and who has not bent to fit any idea of what a woman should be like in that kind of position. And she is so talented. I am just so happy that she is around for women everywhere. It's just fantastic."
Having role models in an industry that isn't always necessarily encouraging of females is important for Stone.
"There are a lot of really brave women in the industry right now, who are daring to be themselves and not fit into this stupid 'actress' mold, and that's really inspiring," she added while discussing how the industry could be improved for women. "So yeah, a lot of things can change and I think a lot of people are beginning to accept change, in lots of different mediums, which I'm really happy about. I hope I can harness some of that, in some way."
Stone is currently promoting "The Amazing Spider-Man 2," due in theaters May 2.
BEFORE YOU GO
PHOTO GALLERY
Emma Stone: Old Photos From Theater Productions