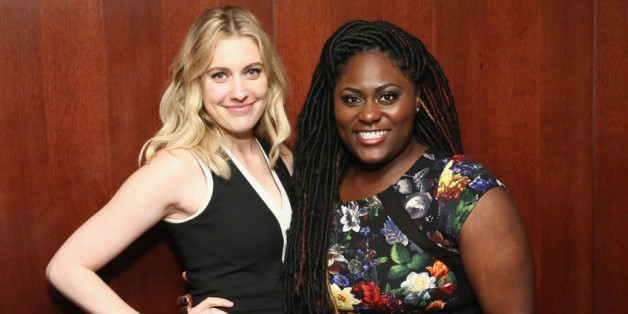 NEW YORK, NY -- "Do what you love and success will come," remarked Glamour Vice President and publisher Connie Anne Phillips during Glamour's Top Ten College Women event at Lincoln Center's Merkin Concert Hall on April 17.
The event honored the achievements of 10 extraordinary young people -- like $20,000 grand prize winner Kendall Ciesemier who founded charity Kids Caring 4 Kids to raise money for schools, clinics, and housing in sub-Saharan Africa -- and included a panel of inspiring women who have already "made it." The panel, moderated by Glamour editor-in-chief Cindi Leive, featured actresses Greta Gerwig and Danielle Brooks, certified dietitian-nutritionist and media personality Gina Keatley, founder and executive producer of MAKERS Dyllan McGee, and TV screenwriter and producer Colleen McGuinness (who counts Tina Fey as a mentor). The panelists shared their own stories of failure and success with an audience of female college students.
Those watching learned that Gerwig had a flip phone until a month ago, that the cast of "Orange Is The New Black" is like a giant, supportive "sisterhood," and that Tina Fey's greatest career lesson to McGuinness was to "be appropriate and be professional." "You can't dig up any dirt on Tina because she doesn't make any," McGuinness said. "She's also a great listener. She's very present."
All of the women cautioned against setting arbitrary deadlines or viewing success in too narrow a scope. "Someone's always making more money or doing better," Gerwig commented. "If you keep on chasing the carrot, you'll never feel successful. Push forward, but don't lose where you are."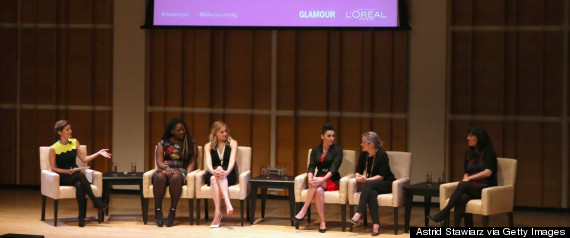 From L-R: Cindi Leive, Danielle Brooks, Greta Gerwig, Gina Keatley, Dyllan McGee and Colleen McGuinness.
During an intimate dinner with the winners and panelists at Lincoln Restaurant, HuffPost Women caught up with Danielle Brooks and Greta Gerwig, and spoke to them about what they love about being female -- and what still needs to change for American women.
What is one issue you think that women should be focusing on more in 2014?
Greta Gerwig: I think women -- and not just in 2014, but going into the future -- should really focus on health care. It's really important. That's the thing I think most about, because that's the thing that I had the least access to when I was young and in New York, and didn't have any money. Being able to have good gynecological care for women that's affordable and affordable birth control, all of that is really important and should be provided in a way that's easy in every state.
Danielle Brooks: Beauty is something we need to focus on -- our definition of beauty. I think that one of the beautiful [laughs] things about being on "Orange Is The New Black" is redefining beauty. None of us have makeup on. Our hair is in its natural state. We have the ugliest outfit in the world on -- which some of us try to make cute -- but you really have to look at the person and who they are and define their beauty. And people have fallen in love with every one of the characters, from transgender woman [Sophia Burset] to Big Boo to Taystee. We're all so different and people are really finding the beauty within that person. We need to change how Hollywood and America define beauty.
What is one thing you wish would shift for women in the entertainment industry -- or something that you've already seen start to shift?
GG: I'm very blessed to be living through an incredible upswing of women who are in front of the camera and behind the camera telling their stories, writing, producing, directing and I just want more of it. I think there's so much room for improvement -- obviously there's people who are making huge strides, but at Cannes this year, only two women were in competition and that's just not good enough.
DB: I think everyone being represented. We're still not there, and it's annoying to still be like "I'm the first black girl on a show," like, why am I having to do that? And for other people too, not just African-Americans, but for other shapes and sizes, feeling that way. When you look out into the world, we all look different. So why are we constantly only seeing blondes as leads? I don't get that. I think it's kind of sad that we're saying Kerry Washington is the first black, female lead [on TV] in I don't know how many years.
To get to see women that look like myself on-screen, like Countess Vaughn or Regina King or Whoopi, who's older than myself but had a similar skin complexion and was just bringin' it in "The Color Purple" and "Ghost," was very inspiring to my career. So I'm hoping that when people look at me, they are inspired to be like: "I can do this!" And even if they don't look like me -- we all inspire each other.
I feel proud to be a woman because ______________.

GG: That's hard. I feel proud to be a woman because it's never been a better time to be a woman than right now. We're in the middle of writing our collective history and that's pretty awesome to be a part of.
DB: [laughs] I'm silly. I always say something ridiculous. I'm proud to be a woman because we can reproduce -- we can make babies. Come on! Men can't do that!
What is the best piece of advice that you've received recently (or ever)?
GG: Always carry flats in your purse. And just because it's free, you don't have to drink it or eat it.
DB: Well, I was just talking to Susan Goodall, [Glamour's Editorial Development Director], and she reminded me that at Juilliard [where I went to college]: "You are enough." And that's easier heard than done, but really understanding that you are enough in whatever you do, so that you're not getting caught up trying to be someone that you're not -- that would be my biggest lesson.
PHOTO GALLERY
Glamour And L'Oreal Paris Top Ten College Women 2014 Panel And Dinner