Executive Editor of The New York Times, Jill Abramson, revealed the fascinating process by which the front page of the newspaper comes together every day. She also explained how this compares to creating the newspaper's online home page.
Every day, says Abramson, the editors of each section of the paper—including international, business, sports and culture—pitch at least one story that they believe earns a front-page presence. To do this, the editors prepare summaries of those stories, which are then read aloud and discussed as a group.
"We try to choose the best mix of topics we can find from those stories," Abramson explained.
The digital format of The Times has also allowed for more stories to receive valuable face time.
"The fact that we have a digital news report and many more digital readers means we can have many more articles showcased on the home page," Abramson explained. "Right now, our reporters are just as happy to lead the home page online as they would be to get on the front page in print."
For more of Jill Abramson's life and career, view the slideshow below:
PHOTO GALLERY
The Rise And Rise Of Jill Abramson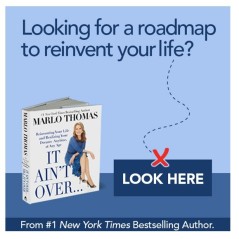 Add Marlo On Facebook:
Follow Marlo on Twitter:
Sign up to receive my email newsletter each week - It will keep you up-to-date on upcoming articles, Mondays with Marlo guests, videos, and more!