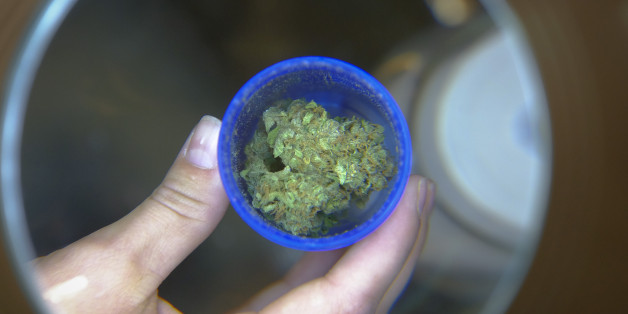 Illinois regulators have dropped proposed medical marijuana restrictions that would have required gun owners to choose between their weapons and their weed.
The change was revealed when the Illinois Department of Public Health formally filed rules for the state's medical cannabis pilot program -- the strictest in the nation -- after months of public feedback.
Stricken from rules originally proposed in January is language requiring legal gun owners (and their caregivers) to relinquish their Firearm Owner Identification cards before joining the state's medical marijuana registry, and banned medical marijuana patients from owning firearms.
That doesn't necessarily mean, however, that Illinois residents can legally mix the two. Federal law still bars gun ownership to anyone who uses marijuana or other controlled substances.
"Under federal law, anyone who is using marijuana, regardless of whether his or her state has passed legislation authorizing marijuana use... is considered an unlawful user," Thomas Ahern, a spokesman for the Bureau of Alcohol, Tobacco, Firearms and Explosives, told the Chicago Sun-Times.
Advocates still cheer the state's decision: "Anything that makes it less burdensome for the patients is always a good thing," said Julie Falco of Chicago, who has used cannabis to control pain from multiple sclerosis, reports the Associated Press.
The newly-filed rules not only allow approved medical cannabis use for gun owners, they also make it cheaper for prospective patients. Regulators dropped a medical marijuana registry free from $150 to $100; veterans and people with disabilities would only pay $50.
The Chicago Tribune reports prospective business owners were less enthused by the new rules, which come with high fee requirements to run a dispensary or cultivation house. Grow house owners will be required to pay a non-refundable $5,000 application fee, and the the liquid assets required to open a grow center doubled from $250,000 to $500,000.
The rules now go to the Joint Committee on Administrative Rules, where the rules will be reviewed and approved after a 45-day period to solicit the public's comments and suggestions.
BEFORE YOU GO
PHOTO GALLERY
What The Legal Marijuana Industry Looks Like