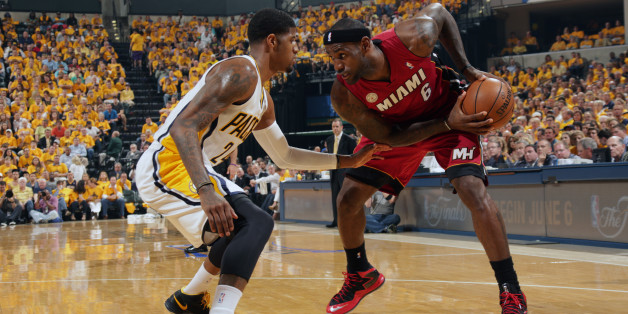 The grueling nature of the NBA Playoffs may not offer the same one-game excitement as March Madness, but the high energy and the spate of storylines remain. Will Miami three-peat, or will Indiana finally stand up to LeBron? Can San Antonio make yet another finals run, and are the Clippers ready to make the first deep playoff run in franchise history? Here is a look at the eight best storylines to watch as the postseason gets underway.
New Kings Of The East?
Indiana limped its way to the top seed in the East, and the question now becomes: Which Pacers team will show up? Will it be the defensively-blitzing team of the first half -- the one that showcased Roy Hibbert's insatiable rim-protecting skills and Paul George's improved offensive game? Or, will Frank Vogel's club continue to struggle scoring and more surprisingly, on the defensive end? Indiana is just 11-13 since March, and despite maintaining the league's most efficient defense this season, they are allowing a robust 103.2 points per 100 possessions -- compared to 96.8 for the season -- over the past six weeks. Hibbert has publicly voiced his displeasure with a lack of post touches, while Andrew Bynum will sit the first round. Then again, the Pacers lost five of seven games to close 2013 before taking the Heat to seven games in the conference finals.
Three-Peat?
How can we discount the two-time defending champs, especially when this is likely their last go-around together? But Miami, like the Pacers, has struggled since March, amassing a losing record with a whole cadre of lineup changes and injury and age concerns -- namely about Dwyane Wade, whose missed 28 games this year. This is not a great defensive team either, ranking 14th in opponent field goal percentage, its worst clip since the Big Three came together. And yet, when you have LeBron James, certain deficiencies seem to disappear, or at least fade away. The world's best player has no qualms deferring to Wade and Chris Bosh for 40 minutes, but he has been lethal in the fourth quarter while shooting a career-best 57 percent from the floor.
Young Point Guards We can wax poetic about Russell Westbrook and Stephen Curry, but in Kemba Walker, John Wall and Damian Lillard (all 23 years old), we have three of the most exciting young point guards in the league, all making their first playoff appearance. Walker has yet to beat Miami in his career, but we know he rises to the moment, and he will not be gun-shy. Wall has faced the critics and overcome the notion that he can't lead a team to success, ala his predecessor, Gilbert Arenas. Perhaps Wall won't ever become a knockdown shooter, but the former No. 1 pick has increased his 3-point percentage from 27 percent to a respectable 35 percent. Lillard (pictured above) -- the reigning Rookie of the Year and a first-time All-Star -- is the most offensively gifted and probably versatile of the bunch. He is an excellent perimeter shooter, effective pick-and-roll operator and loves to take the big shot.
The Best 'Lob City' Yet
In their first year under coach Doc Rivers -- who inked a three-year, $21 million deal -- the Clippers have made tremendous improvements, both collectively and individually. Chris Paul has shed some of his domineering ways, DeAndre Jordan has become arguably the game's premier rebounder and Blake Griffin has made a case for being its best power forward. How this translates to the postseason remains to be seen, but LA has an unlimited arsenal of offensive weapons and ranks fifth in opponent field goal percentage as well. Griffin, with his 24 points per game on average, has shown his ability to be a go-to guy, but can he do it against superior defenses designed to take him out of his comfort zone in the half-court?
Dynamic Duo Or Troubled Match?
The Kevin Durant-Russell Westbrook drama has become league-wide fodder: Is Durant better off without his fearless point guard's overbearing ways? The answer will be debated whenever Oklahoma City struggles during the playoffs, but the truth is that while both Durant's efficiency and the Thunder record are strangely similar with and without Westbrook, other players like Serge Ibaka and Westbrook's backup, Reggie Jackson, have seem dramatic dips in production. That is the trouble for coach Scott Brooks, who wants Durant to see the bulk of late-game touches, but also understands that his team needs Westbrook and thrives off his attacking style of play. Remember, Memphis -- its first-round opponent -- defeated OKC in five last year, but that was sans Westbrook. The peaking Grizzlies, with a healthy Marc Gasol, also have a better record than the Thunder since January 1.
Birth Of A Superstar The NBA Playoffs have a way of creating new stars and exposing old ones, and the one can't-miss guy of 2014 is Toronto's DeMar DeRozan. First off, he is an immense talent. Secondly, at 24 years old, he is just now grasping how good he can become. And thirdly -- and this is the most important one -- he is growing accustomed to being "the guy" without Rudy Gay, who was traded. A relentless attacker who attempts nearly eight free-throws per game, DeRozan constantly puts pressure on defenses to help and rotate. One of the premier athletes in the league, he finishes at the rim and has developed a solid, if not yet dominant, mid-range game. The Raptors have a favorable first-round matchup with Brooklyn and head coach Dwane Casey has raved to me about DeRozan's ability, meaning we can expect a limitless amount of offensive opportunities for one of the game's budding superstars.
The Up-And-Comers
Golden State, Portland and Houston: All three are Western Conference teams with superstars that don't get enough respect. The Warriors will be without Andrew Bogut because of a fractured rib, but nevertheless remain dangerous with a shooting proficiency that would make even the great James Naismith proud. The backcourt combination of Klay Thompson (49 percent from 3 in April) and Curry (47 percent) might just be the greatest shooting combination in league history.
The Blazers meanwhile, after a meandering stretch in the second half, are the NBA's hottest team and winners of nine of ten. Lillard and LaMarcus Aldridge create a devastating pick-and-roll duo, and Portland's unique ability to spread you out -- no team scores more points -- with Terry Stott's "flow" offense is special. Aldridge recently told The Huffington Post: "I think this year I've definitely gotten out of my box ... to try take on [more leadership]. ... I knew that if this team had a chance to go somewhere, I had to try to be elite in both areas, as far as scoring and rebounding." And how can we sleep on Houston? The Dwight Howard experiment has gone about as well as Rockets fans could have hoped, and despite the injury to point guard Patrick Beverley, a vastly improved defense (sixth-best in opponent field goal percentage) gives Kevin McHale's bunch hope.
Old Faithful
It's only fitting that we haven't even mentioned the San Antonio Spurs yet, and as easy as it is to forget about them, here is some advice: Don't do it. Not only did the Spurs not suffer a hangover after last June's devastating Finals defeat to the Heat, they won a league-best 62 games! Love him or hate him, Gregg Popovich is one of the true coaching masterminds in any professional sport today. He has given complete control of his offense to Tony Parker while simultaneously keeping the ageless Tim Duncan (15 points, 10 rebounds and fifth in blocks in just 29 minutes per game) as efficient as possible. Since 1997, the Spurs have won nearly 71 percent of their regular season games. Per usual, this year's club is remarkably deep, equally unselfish and highly capable of winning a fifth title under Pop.
Email me at jordan.schultz@huffingtonpost.com or ask me questions about anything sports-related at @Schultz_Report and follow me on Instagram @Schultz_Report. Also, be sure and catch my NBC Sports Radio show, Kup and Schultz, which airs Sunday mornings from 9-12 ET, right here.