When asked about the legacy of The New York Times —and the honor of being its first female Executive Editor—Jill Abramson spoke with pride as she shared her thoughts.
"I love the word legacy," she said, "and to me, that's the greatest honor of having this job." On the 16th floor of The New York Times building, Abramson told us, the original desk of Henry Raymond, the first editor of The Times, remains—a symbol of the paper's long and colorful history.
"To me, it's scarcely believable that I follow in the amazing footsteps of so many great editors," Abamson told us, citing former editors such as Turner Catledge, who served as Editor during the height of the Civil Rights Movement.
"Those editors had such a difficult history to sort through for our readers," Abramson added. "So it's a huge honor."
For more of Jill Abramson's life and career, view the slideshow below:
PHOTO GALLERY
The Rise And Rise Of Jill Abramson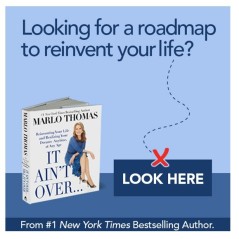 Add Marlo On Facebook:
Follow Marlo on Twitter:
Sign up to receive my email newsletter each week - It will keep you up-to-date on upcoming articles, Mondays with Marlo guests, videos, and more!