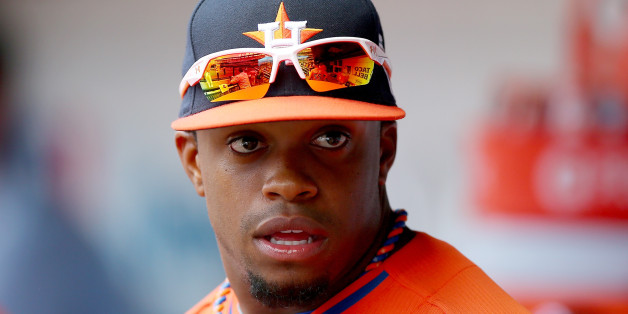 There is nothing minor about the swelling to Delino DeShields Jr.'s face.
The Houston Astros' prospect was hit in the left cheek with a pitch on Friday night in a minor league game and the images of his swollen face should make any player in the major leagues nervous the next time that he steps into the batter's box. With his Corpus Christi Hooks facing the Frisco RoughRiders in a Double-A game, DeShields was hit in the face by a pitch from Phil Klein in the top of the seventh inning. DeShields was able to walk off the field under his own power but was taken to a local hospital, according to the team.
Here is what DeShields looked like after getting hit by a pitch reportedly clocked 90 mph:
Shoutout to my brother for taking a 90mph fastball to the face like a champ. Looking good Delilah @LinoDeShields pic.twitter.com/Gy1kGakEKE

— Tanner Case (@ctcase10) April 19, 2014
Woke up praying for my brother. He got hit in the face last night by a 90mph fastball 😫😫😫😫 #DeShieldsStrong ✊ pic.twitter.com/iSalGb7ygL

— Diamond DeShields (@DDeShields23) April 19, 2014
Astros general manager Jeff Luhnow said the 21-year-old suffered a non-displaced maxillary sinus fracture in his left cheek, reported Evan Drellich of the Houston Chronicle. The Hooks announced that he will be reevaluated on Saturday.
Despite what looked like an incredibly painful injury, DeShields still seemed to be in good spirits:
To anyone that is concerned as you can see I'm doing fantastic! Blessed to see another day! Always smiling 😊 lol pic.twitter.com/C5koD0Z5t9

— Delino DeShields (@LinoDeShields) April 19, 2014
[H/T CBS Sports]