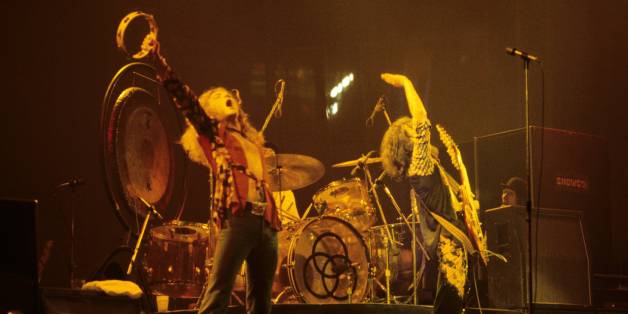 There's nothing more important than having the perfect playlist prepared for your 4/20 smoke sessions. While just about every song sounds awesome when high, some cuts stand above the rest.
We broke down some of our favorites into six sections: old school hip hop, new hip hop, classic rock and all things inspired by the hazy years of the '60s/'70s, modern rock, electronic and the music that doesn't fit neatly into one category, so we will just call it indie or whatever.
Old School Hip Hop
Wu-Tang Clan - "Method Man"

A Tribe Called Quest - "Can I Kick It"

People Under The Stairs - "Acid Raindrops"

The Pharcyde - "Passin' Me By"

Cypress Hill - "Hits From The Bong"

Nas - "It Ain't Hard To Tell"

New Hip Hop
Ground Up - "Late Night Special"

Curren$y - "Elevator Musik"

Aesop Rock - "Water"

Black Hippy - "Say Wassup"

Kid Cudi - "Daps & Pounds"

The Underachievers - "Aquinini"

Classic Rock
Led Zeppelin - "Dazed and Confused"

Creedence Clearwater Revival - "Suzie Q"

Pink Floyd - "Shine on You Crazy Diamonds, Pts. 1-5"

Sheavy - "Born in a Daze"

Jimi Hendrix - "Purple Haze"

The Who - "Eminence Front"

Modern Rock
Circa Survive - "The Difference Between Medicine and Poison is in the Dose"

The Mars Volta - "Cotopaxi"

Envy On The Coast - "Clergy"

This Town Needs Guns - "Cat Fantastic"

Rx Bandits - "Overcome (The Recapitulation)"

Strawberry Girls - "Negro Spiritual"

Electronic
STS9 - "Scheme"

Chrome Sparks - "Marijuana"

Clams Casino - "I'm God"

Black Moth Super Rainbow - "Forever Heavy"

Glitch Mob - "Starve The Ego, Feed The Soul"

Pretty Lights - "Future Blind" or "Around The Block"

Indie (Or Whatever)
Gorillaz - "Empire Ants"

Volcano Choir - "Comrade"

Washed Out - "Great Escape"

Bombay Bicycle Club - "Home By Now"

Radiohead - "Weird Fishes/Arpeggi"

Beck - "Waking Light"

BEFORE YOU GO
PHOTO GALLERY
See Your Favorite Artists Turned Into LEGO