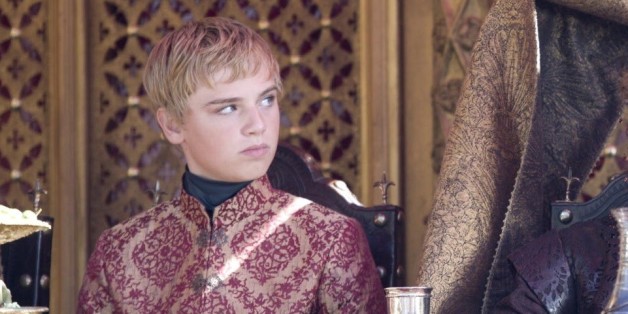 All men must ... be recast, at least on HBO's "Game of Thrones."
The show, whose replacement of two of its supporting cast members still has us scratching our heads, has switched things up again when it comes to their onscreen lineup. But unlike the recasting of Daario Naharis and Gregor "The Mountain" Clegane, Dean-Charles Chapman's takeover of the role of Tommen Baratheon -- Joffrey's younger brother and now successor -- is unique: It's the second role the 16-year-old has played on the series.
Chapman previously held the role of Martyn Lannister, the ill-fated army squire who, along with his brother Willem, was murdered by Rickard Karstark in Season 3. Now that Joffrey has kicked the bucket, Tommen -- it's worth pointing out he seems much nicer than the previous king -- is next in line to rule, and will have a much bigger role in Season 4.
And more screen time came as a surprise for Chapman -- whose resume also includes three years on the West End Stage in London and a part in Nicole Kidman's upcoming thriller "Before I Go To Sleep."
"I was like, 'Whoa!'" Chapman told Vulture, ""I know it sounds silly, but I hadn't read the scripts, and I didn't know what had happened. And then I flew over to Belfast so they could dress me for wardrobe, and the lady said, 'OK, let's get your crown on.' And I was like, 'Crown?' 'Yeah, you know, you're going to be king!'
"So I just stood there, looking in the mirror, with this thing on my head, stunned."
Here's hoping Chapman's new character on the show has a better fate than his last.
CORRECTION: A previous version of this article misstated Chapman's stage history: he appeared in London, not on Broadway. The article also misstated the title of the forthcoming Nicole Kidman film.
BEFORE YOU GO
PHOTO GALLERY
'Game Of Thrones' Season 4