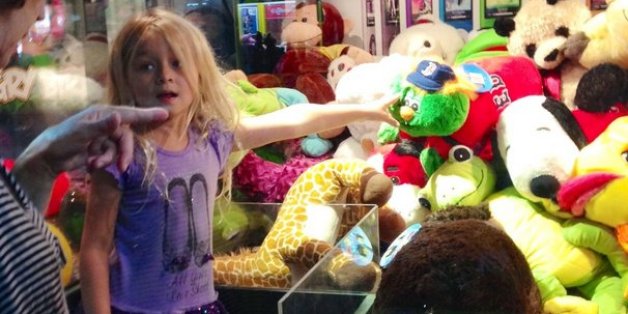 A little girl presumably sick of the tyrannical claw machine never passing out toys took matters into her own hands.
A photo originally posted to Imgur and picked up by The Daily Dot shows a young girl grabbing a stuffed toy from within the glass walls of a claw machine in Fort Lauderdale, Fla.
The girl simply crawled into the machine and started handing out free toys, according to the original poster.
"I feel like I would have the urge to block the exit, put in a dollar, and start attacking her with the claw... but that's just me," Reddit user ShabbyAssets said.
It is unclear whether she escaped the clutches of the claw, according to Gawker, though it's probable that she did.
This marks the second time within a week that a child has been found inside a claw machine.

We aren't sure if it's a sign that mankind will always trump machine by being able to crawl his or her way into a claw machine, or if it means that machines will always win after children get stuck inside of them. We're just waiting for Skynet to come online at this point.
Here's a bonus video of a child getting stuck in a claw machine.
Like Us On Facebook |

Follow Us On Twitter |

Contact The Author
BEFORE YOU GO
PHOTO GALLERY
Dangerous Days