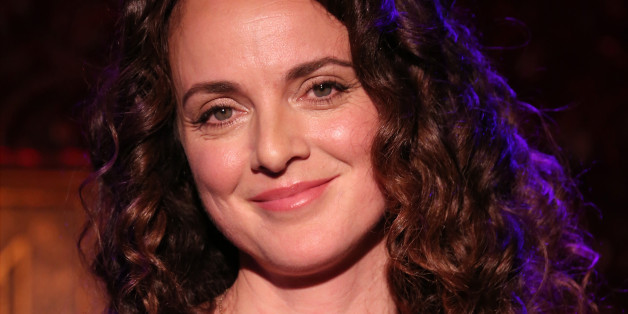 After a challenging 2013, Melissa Errico is a star on the rebound. The stage and screen veteran has a lot to bounce back from, as her run in last year's acclaimed Off-Broadway revival of Stephen Sondheim's "Passion" was cut short due to complications from bronchitis. Meanwhile, the doctor-mandated vocal rest that followed prevented her from joining co-stars Judy Kuhn and Ryan Silverman on that production's cast album.
"It wasn't just a bump in the road; it was a crushing, heartbreaking bump," Errico ("Amour," "Les Misérables") now says of the experience. "The medical problem itself was small, but the impact of leaving the show was greater. I didn't have a foot on land."
A year later, the 44-year-old singer-actress is back in fighting form, and she's viewing her latest show, "At the Corner of 54th & Crazy," as an opportunity to "embrace her flops as well as her successes," with "Passion," of course, being among them.
Errico sings "Meadowlark" at Joe's Pub
The new act, which opens April 22 at New York's 54 Below, marks Errico's return to the venerable Manhattan hotspot since her acclaimed 2012 run (which, incidentally, took place in the wake of Hurricane Sandy). She says that she and her "unstoppable" musical director, Richard Jay-Alexander, have been rehearsing about 40 songs by Sondheim, Frank Wildhorn and Burt Bacharach, among others, in the weeks leading up to the show's debut. Each evening's performance will be a unique combination of that material.
"No Broadway career is complete without disasters, and I've certainly had mine," she quips with a laugh. "I'm very grateful to be singing again -- just grateful. I don't feel a moment's hesitation."
As many of Errico's anecdotes reflect, "At the Corner of 54th & Crazy" is also a peek into the mindset of a working performer juggling the pressures of show business and a young family.
Errico sings "Loving You" from Sondheim's "Passion"
"People are always saying to me, 'My God! You juggle everything so beautifully.' But actually, I don't," she says. Still, she credits husband Patrick McEnroe as well as daughters Victoria, 7, and Diana and Juliette, both 5, with "empowering" her as she prepares for the show.
"Not only do I have an obligation to myself to re-group, but I have an obligation to them," she says. "It's really important to have a different rhythm outside of the ebbs and lows of the profession. In my case, it's a family tribe. We're a soul tribe, and there's so much affection and passion."
And it seems as if at least one of Errico's daughters could be following Mom's path to the stage one day.
"Juliette started playing the guitar the other day, and she wrote her first song, about how she didn't know what to wear to school that day, and specifically, how she didn't know what to wear to parties," Errico says, adding that like any blossoming songwriter, the youngster knows how to strike a nerve. "She spoke the complete universal truth."
Melissa Errico's "At The Corner of 54th and Crazy" plays New York's 54 Below on April 22, 24-26. For more information, head here.
BEFORE YOU GO
PHOTO GALLERY
2014 Broadway Season Preview