 The opening weekend of the NBA Playoffs is over, and it delivered on its promise of both brilliant and poor performances, leaving upsets and what-ifs in its wake. San Antonio limped its way to a Game 1 win over pesky Dallas, but what does that mean for its title chances? Portland showed why you can't discredit a great offensive team, but Indiana, the top seed in the Eastern Conference, laid an egg on Easter weekend. Here is what we learned from the early stages of the playoffs and what to expect looking forward.
16 Straight
The Miami Heat has now won 16 straight games over Charlotte (with the Big 3, LeBron James, Dwayne Wayde and Chris Bosh) and, as expected, easily handled the overmatched Bobcats 99-88, despite a rather inconsistent performance. The trick for head coach Erik Spoelstra -- particularly in these early series -- is to limit the minutes of James and the other two while maintaining the momentum and fluidity his club thrives on. So far, so good. None of the Big 3 played 40 minutes and perhaps just as importantly, the creaky Dwyane Wade -- whom he says faces no limit restriction -- played just 34, right around his season average.
Offense Kills
Two of the league's premier offensive teams -- Portland and Golden State -- put on spectacular performances on the road. The Blazers, fueled by LaMarcus Aldridge's 46 points, lit up Houston's improved defense en route to 122 points in a thrilling overtime win. The question all year long for this offense has been whether or not a jump-shooting team can sustain its scoring prowess in the prolonged format of the postseason. And yet, Aldridge's ability to spread the floor and create driving lanes for Damian Lillard (31 points, 10-12 free-throws), proved the difference. As for the Warriors, its vaunted backcourt of Stephen Curry and Klay Thompson (22 points) was lethal against a Clippers team that has made substantial defensive strides under first-year coach Doc Rivers. It is very early, but the quick-strike scoring of both the Blazers and Warriors was impressive.
The Stunner
Indiana meanwhile, has endured offensive issues all year. But not showing up against a modestly talented Atlanta team without its best player, Al Hoford, in Game 1 of the playoffs, at home, is a shock. All-Stars Paul George and Roy Hibbert were handcuffed, combining for a mere 10-27 shooting, and the Pacers shot just 42 percent from the floor. Ball movement was severely lacking, as was defensive discipline and the normally lightning-fast defensive shifts. Again, this is just one bad performance, but the Pacers' 11-14 record since March 1 fails to inspire confidence. In fact, no other team in the East other than the Hawks has a worse record since the All-Star break.
Why does this matter? According to the Wall Street Journal, during the past decade, 14 of the 20 teams that made the Finals had top-four post-break records in their respective conferences.
Timmmmyyyy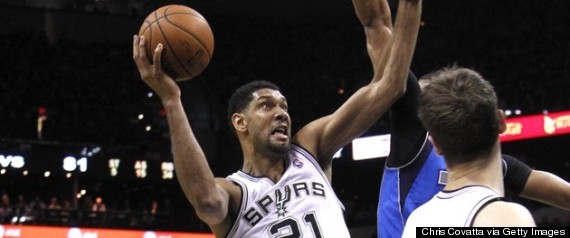 Tim Duncan may not run and jump like a gazelle anymore, but his spry 27 point performance in San Antonio's 90-85 Game 1 victory over Dallas showed us why he may be the greatest power forward of all time. Duncan, after banging knees with Monta Ellis in the third quarter, was sensational from the block and high post, finishing with either hand and taking over for a Spurs offense that struggled for much of the game. With him having to check out, the offense predictably sputtered, going just 2-12 from the floor. Upon his return though, the Spurs went on a 17-1 run, earning their 10th consecutive win over the Mavericks and proving once again why they can never be counted out. Mastermind coach Gregg Popovich ranks fifth all-time in playoff wins to go along with four championship rings.
Home Woes
Teams work all season to earn home-court advantage in the playoffs, but it hardly seemed to matter this weekend. Washington, with its rather convincing 102-93 win in Chicago, became the fourth road team to win Game 1, joining the likes of Portland, Golden State and Atlanta. It's something to watch in the East especially, where the separation between the top two and the next six seems rather vast, but also in the West, which seems wide open.
Email me at jordan.schultz@huffingtonpost.com or ask me questions about anything sports-related at @Schultz_Report and follow me on Instagram @Schultz_Report. Also, be sure and catch my NBC Sports Radio show, Kup and Schultz, which airs Sunday mornings from 9-12 ET, right here.