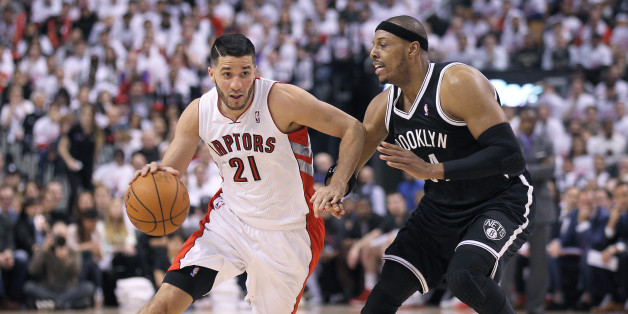 A Toronto Raptors official put the blame on ESPN for the shot clock malfunction that occurred in the third quarter of the team's playoff opener against the Brooklyn Nets on Saturday.
During the third quarter of Toronto's 94-87 defeat, both shot clocks at Air Canada Centre stopped working. The stadium announcer had to keep track of the clock on every possession for the rest of the game. He called out the seconds at the 24- and 10-second marks before counting down from five and yelling "horn!" when time expired. An anonymous Raptors official told The Canadian Press that an ESPN technician had plugged into the same power source for the shot clocks, causing both of them to go dark.
"Let's just put it this way, they're not the worldwide leader in electricians," the official joked to The Canadian Press, mocking ESPN's "The Worldwide Leader In Sports" slogan.
Citing an unnamed source familiar with the situation, Jeff Zillgitt of USA TODAY Sports also reported that ESPN caused the shot clock malfunction.
"It was definitely tough because you're used to looking up to see the time," Raptors star DeMar DeRozan said after the game, via the Associated Press. "We just tried to help each other out when the announcer called down from 10 seconds."
Here's a look at the stadium announcer taking care of the shot clock.
(Video via SB Nation)