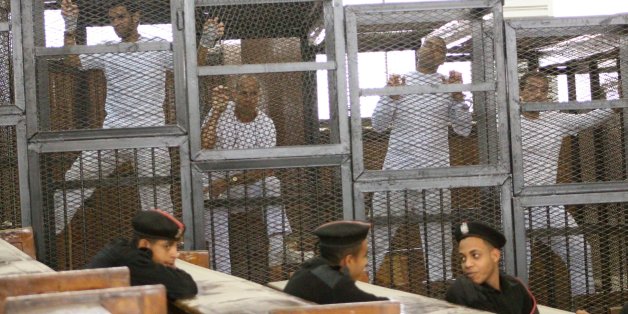 The trial of three Al Jazeera journalists in Egypt resumed on Tuesday, as their supporters grew more frustrated over the journalists' continued detention.
Peter Greste, Mohammed Fahmy and Baher Mohamed appeared in court for the sixth time since they were arrested in December. They are facing charges of conspiring with the Muslim Brotherhood, which they and Al Jazeera have denied. They were denied bail again on Tuesday.
At one point, journalists reporting on the trial were kicked out of the courtroom.
First time journalists expelled from courtroom in AJ trial. Usually allowed to speak to defendants during recess.

— Sharif Kouddous (@sharifkouddous) April 22, 2014
Now standing in area outside courtroom. Cannot believe we had to leave but it felt like we may have been arrested if we stayed. #AJtrial

— Ruth Pollard (@rpollard) April 22, 2014
In court recess @Repent11 starts speaking to reporters. Police force journalists to leave courtroom.

— Sharif Kouddous (@sharifkouddous) April 22, 2014
#AJtrial: Right... the rest of us journalists have been kicked out. This is the transparent trial everyone has spoken of.

— Patrick Kingsley (@PatrickKingsley) April 22, 2014
Earlier, the court watched Al Jazeera clips that prosecutors claimed supported the charges against the journalists. Observers tweeted their frustration over the latest evidence from inside the courtroom.
Mohamed Fahmy says videos shown not his, belong to Aljazeera company. He and company are not responsible for what interviewees say #AJtrial

— Mohamed Lotfy (@mlotfy81) April 22, 2014
Long hearing in Al Jazeera trial, bogged down over translation of prosecutor's "evidence:" a newscast. pic.twitter.com/e7M9WNBLLx

— Kareem Fahim (@kfahim) April 22, 2014
Lack of professionalism and any sense of preparation is embarrassing. Peter Greste's lawyer translating uncontroversial AJE videos for court

— Sharif Kouddous (@sharifkouddous) April 22, 2014
During their last court appearance on April 10, prosecutors had presented other Al Jazeera news clips about an animal hospital and Christian life in Egypt. The judge and the defendants' lawyers found the segments to be of no relevance to the case. The judge had adjourned the hearing to April 22.
Since December, Al Jazeera, the UN, the United States, human rights organizations and other journalists have called for the release of the journalists, who have now been in prison for almost five months.