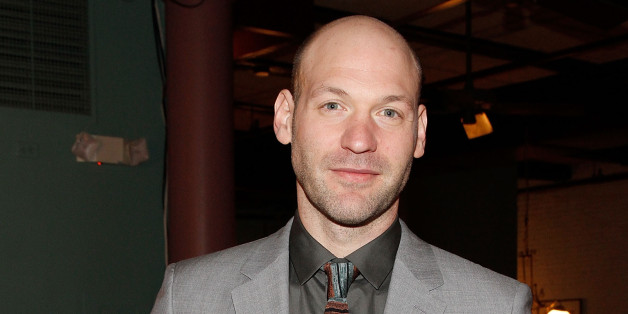 Most of us know Corey Stoll as Peter Russo on "House of Cards," and some may even remember his short portrayal of Ernest Hemingway in "Midnight in Paris." However, Stoll is soon to become a household name with starring roles on both the big and small screens.
Besides appearing in three films coming out this year -- as well as next year's "Ant-Man" -- and starring in FX's new horror series "The Strain," Stoll also made time to play a former boxer in "Glass Chin," which just premiered at Tribeca Film Festival. Stoll's Bud "The Saint" Gordon is a forgotten boxing champ whose career and fame plummeted after throwing a fight years before. He begins training an up-and-coming boxing star, Kid Sunshine, but getting back in the gym isn't enough. Desperate to restore his name, Bud goes into business with crooked entrepreneur JJ (Billy Crudup), only to end up being framed for murder.
HuffPost Entertainment caught up with Stoll during Tribeca to chat about "Glass Chin" and find out what it was like to star in a boxing movie with so little boxing.
What would you say is Bud's driving force in the film?
He's trying to get back to his high-status place, where he was before he took the dive. He's very status obsessed. When you see him at the beginning of the movie he's very bitter and very petty. Everything he does he's trying to sort of leap-frog over the hard work of building himself back up.
There's a clear difference between Bud and Kid Sunshine. Kid wants to win fights for something bigger than himself, but that's not what Bud's goal used to be, was it?
For Bud, it was always in a very small, ego-driven way. It was his way of being a man, being the man. I think it's sort of revelatory to see the Kid who does it for the honor of doing something incredibly well -- that the sweet science of boxing, it as an institution, is worthy of putting all of your sacrificing, all of your blood, sweat, and tears into it in order to create, if not art, then something sort of transcendent.
Do you think that's what draws Bud to Kid and why he enjoys training him?
Yeah. He saw that Kid had a purer set of motives than he did. I think Bud sort of, while he was boxing, assumed everyone was doing it for the same reasons he did. It sort of shocks Bud to see somebody doing this without so much ego.
What is Bud's weakness that makes him susceptible to JJ and leads to the trouble he gets tangled in?
I think he is really susceptible to flattery because he has this sort of grandiose sense of what he's supposed to be. When he was younger he got a taste of being the champ, or being close to being the champ. That people are supposed to treat you a certain way, you're supposed to get the best tables, people are supposed to bow down to you. Billy Crudup's character JJ plays into that and really makes him feel like the man that he was when nobody else does. His girlfriend doesn't do it, people on the street don't do it. He's really been forgotten. The people who do remember, remember him for his downfall. That's really his legacy.
In the film, Bud doesn't have many of his own interests. He listens to his girlfriend's music and sees the movie she picks out. Why is that?
I think for all sorts of athletes, when you're younger and developing your tastes in movies and music, he was just in the gym. JJ calls him a monk [in the film] and there is a sort of a monkish quality to boxer. It just takes so much time and they're so exhausted all the time. It's so all-consuming that I think Bud never really developed certain parts of himself.
There are a few parallels made between boxing and monks in the film, and there's this idea of boxing having a holy quality to it. Do you think Bud ever sees boxing this way?
He didn't, but I think he felt that. There's no way you can work as hard as you have to work in order to become a successful boxer without really feeling that meditation that you get in the gym. But I think Bud from such a young age was just so status obsessed that he didn't give that its due credit.
It's so interesting that you star in the boxing movie where you don't even get to box or fight. Were you ever wishing you'd get to have a fight scene?
Yeah, totally! We spent a few weeks at Gleason's Gym where we shot the gym scenes with Malcolm [Xavier] who plays Kid Sunshine. I was just there training alongside him just to get a sense of the gym and these guys, and to sort of develop my rapport with Malcolm. But yeah, there is something sort of funny about that. The guys in the gym would be like, "Oh you're making a boxing movie." "Aw yeah … sorta." [Laughs] Boxing is the setting, but it's not really a boxing movie.
You have a lot of films coming out this year, but you're still doing TV with the new FX show "The Strain." Is there a difference at all for you between your film roles and your TV ones?
I think sometimes in film there's a little bit more of a need to bring more of your whole self to every scene. Within a movie, this is your only chance to show this particular side of the character. Where in TV sometimes I think you can take your foot off the gas a little bit and every scene doesn't hold the certain responsibility of defining this part of the character. In "House of Cards," I knew I had 11 hours, and in other shows where the character is on-going you have a seemingly infinite amount of time. Even though you're working at this relentless pace in TV, in some ways you can even let the character unfold in its own time and you don't necessarily have to know entirely who he is. That being said, in the day-to-day working of it, they're sort of the same thing. You're trying to fulfill the writers intent and figure out why does this scene exist. That's the same.
"Glass Chin" will be screening at Tribeca Film Festival on April 22 and April 26.
BEFORE YOU GO
PHOTO GALLERY
Tribeca Film Festival 2014