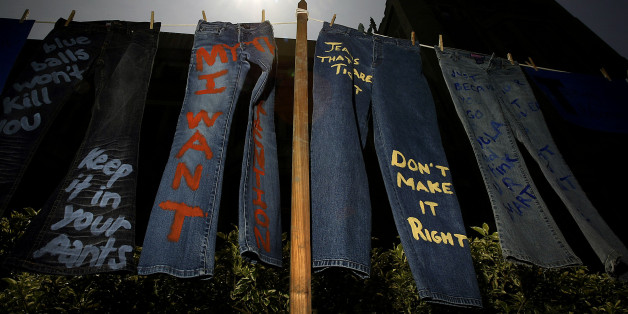 Though some court rulings may imply otherwise, wearing tight clothing does not give rapists permission to assault.
Wednesday marks "Denim Day," the awareness event when advocates and survivors speak up for the rights of people who have been sexually abused. The event dates back to 1999 when the Italian Supreme Court overturned a rape conviction because the victim wore fitted jeans at the time of the assault. The justices ruled that the victim must have helped her attacker remove her pants, thereby giving her consent.
The following day, female politicians came to work wearing jeans to stand in solidarity with the victim. Peace Over Violence then turned that powerful statement into Denim Day -- the day advocates wear jeans and attend rallies to protest against misguided attitudes about sexual violence.
Supporters are getting involved in a number of ways.
University of California, Berkeley students, for example, are distributing information about the campaign and giving people a chance to express messages about sexual assault on T-shirts and jeans. The Guess Foundation committed to making a $100,000 donation to Peace Over Violence, and has more than 400 stores participating in Denim Day efforts. Assault survivors are also using the awareness day as an opportunity to speak out. Los Angeles Mayor Eric Garcetti and Los Angeles Police Chief Charlie Beck unified with the cause by wearing blue jeans to a Denim Day event in L.A., CBS Los Angeles reported.
Over the years, some progress has been made with regard to how survivors of sexual assault are treated.
In 2008, the Italian court overturned its original ruling and stated that "jeans cannot be compared to any type of chastity belt," the Telegraph reported at the time.
Still, advocates say that rape survivors have to bear far too much stigma.
According to the Rape Abuse & Incest National Network, 60 percent of sexual assault cases in the U.S. are not reported to the police.
Denim Day supporters hope that their efforts will empower abuse victims, break taboos and help debunk misconceptions.
"The way our society thinks about rape and receives survivors is not only tragic, it's dangerous," Mariska Hargitay, actress and advocate, wrote on Denim Day two years ago. "Fearing that they won't be believed, survivors are less likely to report their rapes, which means rapists stay out of jail, which means they are free to rape again."
Feeling inspired? Find out how you can get involved with Denim Day.

Need help? In the U.S., visit the National Sexual Assault Online Hotline operated by RAINN. For more resources, visit the National Sexual Violence Resource Center's website.