Police in Vancouver, B.C., are investigating an alleged dognapping after a woman was filmed running out of a tattoo parlor with an employee's French bulldog.
UPDATE -- April 23, 2014: Chloe the dognapped bulldog was found roaming a residential neighbourhood in Abbotsford, Vancouver police said, according to HuffPost British Columbia. Their investigation revealed that the dognapping "possibly stems from a dispute between an employee at the tattoo shop and the dog's original owner."
Previously:
Store manager Shaughnessy Keely, who is the dog's owner, often brings the 10-month-old pooch, named Chloe, to work with her. The suspect came into the shop on Thursday evening and asked to pet the dog. Then while Keely went to help a customer, the woman ran out of the store with Chloe.
The a brief clip of security camera footage posted to YouTube show's the alleged dognapper's brazen attempt.
Keely and the dog's other owner, Kyle Otsuji, have been circulating photos of both Chloe and the suspect on social media. Otsuji told The Province that the dog is microchipped.
"This is what happened and where we are at. Luckily, we have a strong presence on Instagram and social media is proving to be more powerful than expected," Otsuji told the newspaper.
He said he has confidence that Chloe will be returned home soon.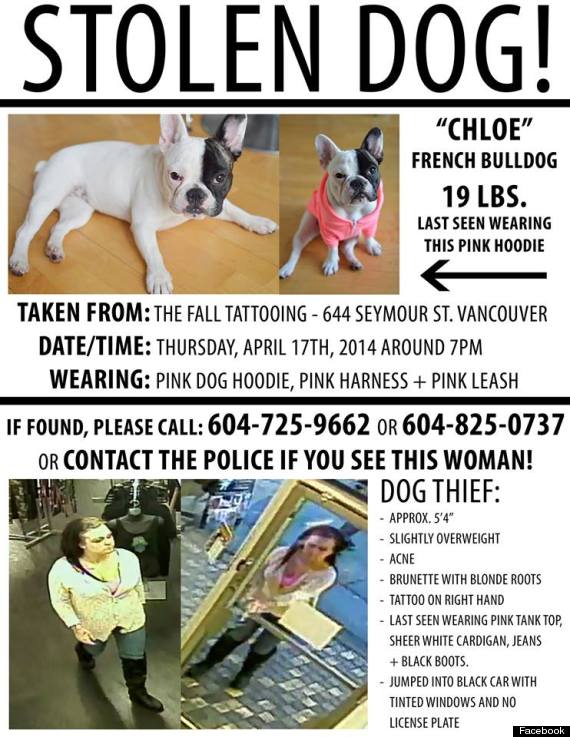 BEFORE YOU GO
PHOTO GALLERY
Animals In The News