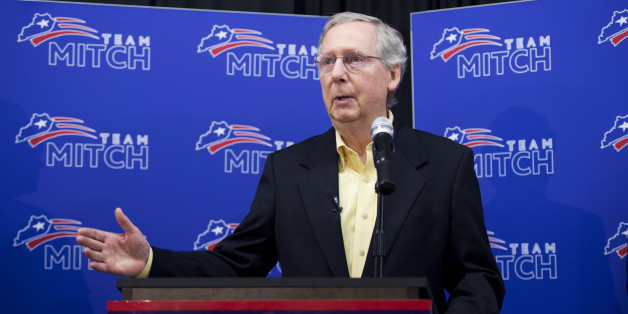 Four southern Senate races with vulnerable incumbents -- Arkansas, Kentucky, North Carolina and Louisiana -- all remain closely contested, according to polls conducted by the Kaiser Family Foundation for The New York Times' The Upshot.
Senate Minority Leader Mitch McConnell (R-Ky.) and Kentucky Secretary of State Alison Lundergan Grimes (D) are deadlocked at 44 and 43 percent, respectively, with Grimes leading by 6 points against Matt Bevin, McConnell's tea party challenger. In North Carolina, incumbent Sen. Kay Hagan (D-N.C.) is also roughly tied with two candidates, taking 42 percent to state Rep. Thom Tillis' 40 percent, and 41 percent to physician and conservative activist Greg Brannon's 39 percent.
HuffPost Pollster's polling model, which combines all publicly available polling, finds McConnell and Grimes tied with just under 44 percent, and Grimes several points ahead of Bevin. The model has Hagan about tied with Tillis and Brannon.
The poll also found surprisingly strong showings by Democrats in two states. In Arkansas, the poll finds Sen. Mark Pryor (D-Ark.) 10 points ahead of Rep. Tom Cotton (R-Ark.). The NYT/Kaiser poll is one of two recently finding a substantial edge for Pryor -- a poll for a pro-minimum wage group also gave him a 10-point lead. While Pryor's numbers seem to have seen a recent uptick, however, other polls conducted this year have ranged between a 6-point Cotton lead and a 3-point Pryor lead.
The HuffPost Pollster model currently gives Pryor a lead of about 3 points over Cotton.
In Louisiana, where candidates from all parties will run directly against each other, the poll finds Sen. Mary Landrieu (D-La.) at 42 percent, with her closest challenger, Bill Cassidy, at 18 percent. This is a departure from the handful of mostly Republican-sponsored polls of the field, which have given Landrieu a lead of 5 to 13 points. Most recent polls of a potential runoff between Landrieu and Cassidy find the Republican leading.
Pollster's average puts Landrieu at just under 42 percent, with Cassidy at 22 percent, and other candidates polling in the single digits.
The GOP needs to win six seats to take control of the Senate, with the most likely route including at least two of the Democratic-held seats in North Carolina, Louisiana and Arkansas.
The NYT/Kaiser polls were conducted April 8 through 15, using live callers to reach 857 registered voters in Arkansas, 891 voters in Kentucky, 946 voters in Louisiana and 900 voters in North Carolina.
BEFORE YOU GO
PHOTO GALLERY
Senate Seats Up For Grabs In 2014