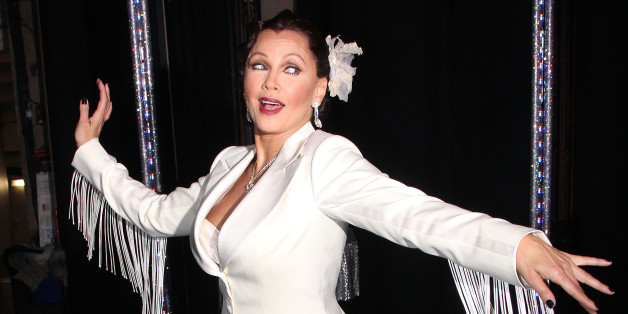 Following her performance in last year's Tony Award-winning Broadway production "The Trip To Bountiful," multi-platinum recording artist and actress Vanessa Williams returned to the Great White Way earlier this month as the latest headliner in the Broadway musical revue "After Midnight."
The Broadway show, which celebrates Duke Ellington's years at Harlem's historic Cotton Club, finds the 11-time Grammy nominee taking over the lead vocal duties of Kenny "Babyface" Edmonds and Toni Braxton, who in turn replaced k.d. lang in March. Lang took over the role in February from Fantasia Barrino, who originated the part.
The Huffington Post caught up with the former Miss America winner as she divulged details on her latest Broadway gig, in addition to her thoughts on a "Soul Food" sequel hitting theaters.
What was it about "After Midnight" that influenced your decision to join the cast?
Well, I just finished "The Trip To Bountiful" in October. "After Midnight" opened a week after, and I heard great buzz on the show. And when they called to ask me whether I wanted to jump in, I agreed immediately. It's Duke Ellington's music from the Cotton Club, which is our history. There are amazing standards that have been done for years, and I knew it was the most talented cast on Broadway. So it was a no-brainer.
Since you covered a few of Lena Horne's classic songs in the production, has it ignited the urge for you to record a new album, particularly an album containing standards?
I would love to do a standards album. Lena Horne is one of my favorite icons of all time, and the fact that I get a chance to sing her signature tunes is pretty amazing. I would absolutely love to do it. I think standards and American Songbook are something that I feel really comfortable [with] and suits me. And at times I feel like I was supposed to be born in another era, just because it feels so right.
How would you describe the transition between starring in both "The Trip to Bountiful" play and Lifetime original film to jumping into "After Midnight"?
For this role I only had a week [to prepare]. So the challenge was that. Normally when you're doing a play, or even doing a new musical, you at least have a good four to six weeks to learn the material, figure out what works, and learn your track. But in this particular one, the piece was already shaped, and it was just a matter of jumping in. The good thing for me is that working with Warren Carlyle, who is the director and choreographer, he knew that I could dance and we got a chance to do a lot more dancing than I've ever done in a role. So I really have an opportunity to make it mine.
Switching gears to television and film, would you be interested in starring in a "Desperate Housewives" motion picture if the opportunity manifests?
Oh, sure! If they call me, absolutely! I had a ball doing the show for two seasons. I haven't heard anything, but I would love to play with those ladies again, for sure.
In terms of remakes of classic black films, last year we saw the sequel to "The Best Man" hit theaters. What are your thoughts on the idea of a "Soul Food" sequel hitting theaters?
It would have to be where the characters are now and would it be interesting. And I guess you would have to do it from the mind of the boy who was young. So I guess he would be all grown up and a man. And I think it also would have to depend on George Tillman, who wrote it. He was the reason why it worked, because it was his story and his first time telling a story as a director. And obviously the cast.
If it's not on the page, it ain't gonna work. And if the script is strong, that's how you start something successful. I don't think they'll do it unless they have a very strong script.
You can catch Vanessa Williams starring in "After Midnight," which runs through May 11 at New York's Brooks Atkinson Theatre. And you can see her this fall when she revives her role in "The Trip To Bountiful," scheduled to open at Los Angeles' Ahmanson Theatre in September.
BEFORE YOU GO
PHOTO GALLERY
Vanessa Williams' Style Evolution