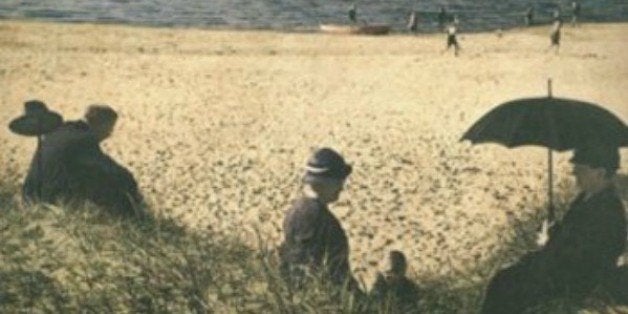 In 1908, when she was in her mid-twenties, Virginia Stephen visited Italy and France with Vanessa and Clive Bell. "We drank an immense amount of coffee and sat out under the electric light talking about art. I wish we were 10 years younger, or 20 years older, and could settle to our brandy and cultivate the senses," wrote Virginia. New sights, sounds and smells awakened Virginia's sensual awareness and titillated her taste buds. English food was unadventurous, bland and overcooked, but to eat foreign foods and wines was to be enraptured by a symphony of flavors and desires.
In her novels, Virginia Woolf often employed 'the dinner party' situation to bring her characters together and to expose social inequalities; food can be used to influence and to manipulate. In To the Lighthouse, for example, William Bankes is seduced by "Mildred's masterpiece:" "It was rich; it was tender. It was perfectly cooked." "But how do you make Boeuf en Daube?" Vanessa wrote to her sister about this episode, five days after To the Lighthouse was published. "Does it have to be eaten on the moment after cooking 3 days?" It is clear that by this time Virginia had most definitely cultivated her senses. The dishes that follow are inspired by this particular novel.
Mildred's Masterpiece (Boeuf en Daube)
This recipe for Boeuf en Daube is my own. Provençal beef stew does not have to be eaten "on the moment after cooking 3 days," as Vanessa Bell thought. In fact, it tastes better after it has been chilled and reheated.
1.5 KG TOP RUMP OF BEEF
1.5 KG SKIRT OF BEEF
60 G BACK BACON, TRIMMED OF FAT
3 TBS PLAIN WHITE FLOUR SEASONED WITH 1 TSP SALT AND ¼ TSP FRESHLY GROUND PEPPER
¾ CUP SALT CURED NIÇOISE OLIVES, STONES REMOVED
500 ML FULL-BODIED RED WINE
45 ML COGNAC
2 TBS EXTRA VIRGIN OLIVE OIL
2 CUPS GOOD QUALITY BEEF STOCK
1 TBS TOMATO PASTE
1 ONION, STUCK WITH 3 CLOVES
3 MEDIUM TOATOES, HALVED
1 HERB BOUQUET, AS BELOW
SALT AND PEPPER
For the marinade
1 HERB BOUQUET: 3 SPRIGS PARSLEY, 2 SPRIGS THYME, 1 BAY LEAF, 1 STALK CELERY
2 OR 3 STRIPS ORANGE ZEST, WITHOUT PITH
½ TSP GROUND BLACK PEPPER
2 RED ONIONS, THINLY SLICED
3 FRESHLY CRUSHED CLOVES
3 CLOVES GARLIC, CHOPPED
4 CARROTS, ROUGHLY CUT
10 G FRESHLY CHOPPED PARSLEY
10 G FRESHLY CHOPPED THYME
¼ TSP FRESHLY GROUND NUTMEG
⅓ CUP OLIVE OIL
Three days in advance, prepare the marinade by combining all the ingredients together in a non-metallic bowl. Cut the top rump into 3 cm cubes and the skirt into similar sized pieces. Toss all the meat, including the bacon, into the marinade mixture. Pour the wine and cognac over the top and mix again. Cover and place in the refrigerator for 24 hours, stirring occasionally.
Next day, preheat the oven to 140°C. Remove the meat from the marinade, separate, and dry the beef pieces on sheets of kitchen towel. Roll the rump in seasoned flour. Cut the bacon into bite-sized pieces. Heat the olive oil in a large cast-iron casserole dish (Le Creuset is perfect) and quickly brown the skirt, followed by the bacon and the rump. Transfer meat to a plate. Pour the beef stock into the pot, add the tomato paste and scrape off all the delicious brown bits from the bottom using a wooden spoon. Remove the orange peel from the marinade and replace the old bouquet garni with a fresh one. Pour the marinade, fresh tomatoes, onion and olives into the pot and bring it gently to the boil. Simmer for 20 minutes. Add the meat and cover with foil. Place the lid of the casserole on top to seal the dish. Place in the middle of the oven for 1½ hours.
Remove from the oven and cool. Discard the bouquet garni and the onion. Refrigerate.
On the day of serving, skim any residual fat off the top. Reheat gently and season with salt and pepper. Serve with basmati rice and peas. Serves 6-8.
The natural fruit season in Britain runs from June to November. Apples and pears are picked in late summer and autumn and stored and eaten throughout the winter months, and unforced rhubarb is harvested in the spring; but one has to wait until summer to enjoy the mouth-watering flavours of ripe strawberries, plums, currants, loganberries and blackberries. In 1927 the banquet of fruit described in To the Lighthouse would have been a rare visual feast, perhaps occurring only once or twice a year when the fruit season was at its peak. This is my own interpretation of it.
FRESH, SEASONAL FRUIT
2 BUNCHES GRAPES
PEARS
APPLES
The important thing when composing this dish is to arrange your fruits in a casual but organized fashion, being careful to offset the colour of one fruit against the size and shape of another. Begin by placing a large seashell at one end of the platter. Next place a large fruit next to it, branching out with other fruits, covering the base of the plate. Fruit should be placed in small piles of threes or fours to create depth and height. Lay one or two large bunches of grapes over the top, voluptuously draping the fruit beneath. If smaller fruits are in season, add them at this stage. A certain amount of creativity is required when arranging the fruit and it is always advisable to use fruit that is fresh and in season.