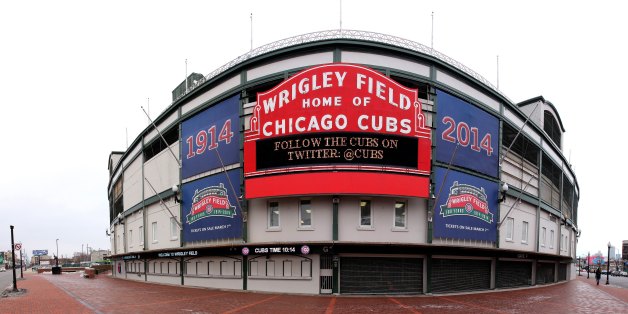 What better way to celebrate Wrigley Field's 100th birthday than a 400-pound cake? In honor of the milestone, Buddy Valastro of the famous TLC reality show "Cake Boss" made a massive cake in the shape of the famous stadium.
I'm so honored to make Wrigley Field's 100th birthday cake! Time to celebrate @Cubs style baby!#WrigleyField100 pic.twitter.com/n8UQ6mGf81

— Buddy Valastro (@CakeBossBuddy) April 23, 2014
And here it is. The 400-lb. Wrigley Field birthday cake: pic.twitter.com/HjW5gYCCRr

— Danny Ecker (@DannyEcker) April 23, 2014
A couple more shots of the Wrigley cake. 4x5 feet, took 4 people 6 days to make: pic.twitter.com/NSGJ1oW86s

— Danny Ecker (@DannyEcker) April 23, 2014
The #WrigleyField100 Cake Boss creation from @CarlosBakery has arrived, and it is cool. pic.twitter.com/INecXJEXFs

— Chicago Cubs (@Cubs) April 23, 2014
Anyone else hungry?
(H/T Bleacher Report)
UPDATE Well, the cake ended up in a dumpster after the celebration.
400lb edible cake #WrigleyField tossed in dumpster after #WrigleyField100 anniversary. #appropriate #Cubs #CakeBoss pic.twitter.com/B7JvgGge7w

— Bloggers To Be Named (@Bloggers2BNamed) April 24, 2014
The Cubs released a statement saying they were "disappointed" in the handling of the cake. Via Redeyechicago.com:
"The Chicago Cubs are disappointed in how our Wrigley Field display cake was disposed by the Field Museum following our successful charity event. The team made a decision not to serve the edible portion after the cake was on display outside Wrigley Field for most of the day. Though the cake was mostly made up of non-edible material, it certainly does not excuse how a celebratory cake artfully created by Buddy Valastro and Carlo's Bakery was handled."