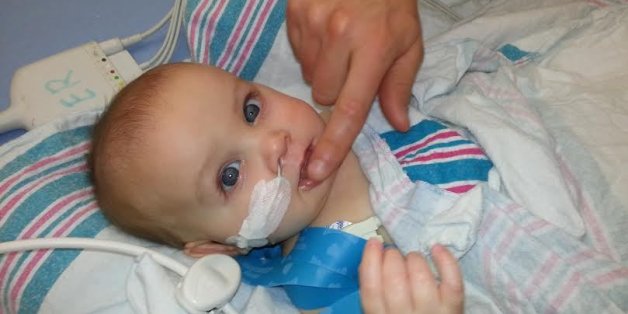 Baby Wyatt's parents are desperate for answers, so they've turned to the Internet for help.
Andrew Scott and Amy Miville have taken their 10-month-old son to countless specialists to determine the cause of the lockjaw he has had since his birth last June, ABC News reports. Doctors say the rare condition, congenital trismus, is "usually the result of a fused joint or extra band of tissue. But Wyatt's CT and MRI scans appear to be normal," the outlet notes.
No one seems to know why the boy -- who remained in the Children's Hospital of Eastern Ontario for the first three months of his life, according to the CBC -- can't open his mouth. The family has faced several choking scares since then.
"Nobody can tell us if Wyatt is going to be better in two years, five years, 10 years or if he will be eating from a tube the rest of his life," Miville told CBC. "He's so normal in every other way. I want him to have the benefits that my other children have."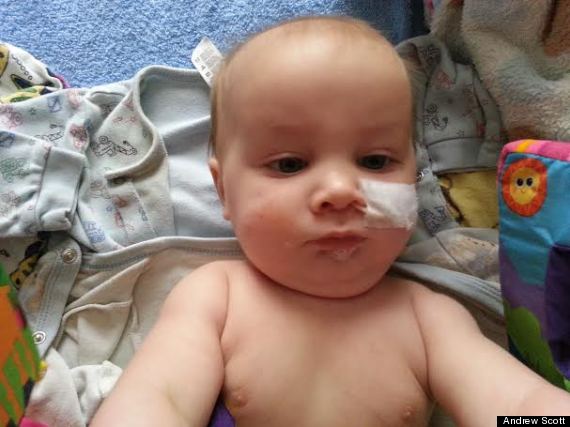 Without answers, Scott and Miville have turned to the Internet for help and created the website "What's Wrong With Wyatt?" On the site, they describe Wyatt's story and list what tests have been conducted. Some theories they've heard thus far include severe posterior tongue tie, a thyroid problem, and a stroke at birth.
Hundreds have reached out since the site was launched.
"We've received so much input, it is overwhelming, though it seems to have slowed over the last few days," Scott told The Huffington Post in an email. "I believe that we may have possibly found a similar case with someone in the U.S. I am unsure at this time whether or not it will pan out but we will see what Wyatt's doctors think."
"If nothing else we have found that we are not alone, and there are many more families with undiagnosis/misdiagnosis," he continued. "I have received emails from doctors, nurses, pharmacists, parents, scientists, researchers, international media, therapists, crazy people, and people who care. I sifted through over 400 emails so that we could present anything that may be valuable to our doctors."
Friends and family of the Scotts have set up a fundraiser on YouCaring.com to collect money for Wyatt's medical expenses. About $2,000 has already been raised.
If you would like to offer feedback to the family, please contact them via the What's Wrong With Wyatt? website.