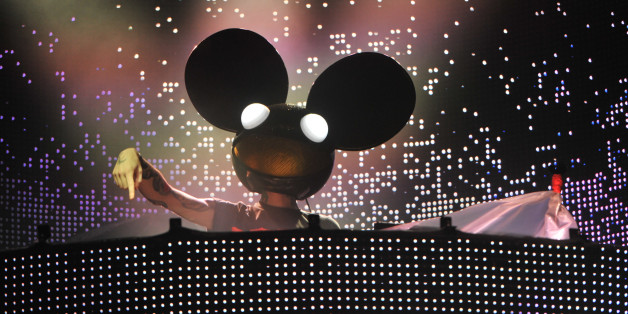 Arcade Fire's Will Butler called out EDM performers at Coachella's first weekend and now it seems like his comments rubbed a certain mouse the wrong way.
"Shout-out to all the bands still playing actual instruments at this festival," Butler said to the crowd. Outspoken DJ Deadmau5 (aka Joel Zimmerman) called out the band on Twitter, asking "Dafuqs yer problem?"
shit to remember: A computer is a tool, not an instrument.

— deadmau5 (@deadmau5) April 23, 2014
arcade fire needs to settle down. some dudes devote their lives to instruments, others to electronic composition by cpu, dafuqs yer problem?

— deadmau5 (@deadmau5) April 23, 2014
if i wanna watch real artists perform, id pick the opera before wasting a fucking minute of my life with arcade fire. #do youevenscorebro?

— deadmau5 (@deadmau5) April 23, 2014
but since some EDM is enjoyable to me, ill go watch them fake it, and enjoy it more than you hate the fact that they cant play guitar.

— deadmau5 (@deadmau5) April 23, 2014
Deadmau5 made waves in the EDM community when he called out his contemporaries (and himself) for being part of the "press-play" culture. In an essay on his Tumblr that begins with "We all hit play," he wrote, "I think given about 1 hour of instruction, anyone with minimal knowledge of ableton and music tech in general could DO what im doing at a deadmau5 concert."
Well, at least he's consistent. Long live music in the year 2014!
BEFORE YOU GO
PHOTO GALLERY
Celebrity Feuds