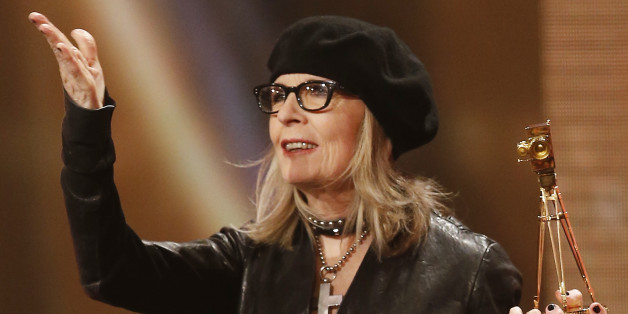 Diane Keaton has been romantically linked to Warren Beatty, Jack Nicholson, Al Pacino and Sam Shepard in her long and prosperous life, but she has never married. At 68, she tells People magazine, she kind of wishes she had.
"It's not the worst tragedy. But I really wish I had bought myself a man! A good man who would be a great father, I really do. I think it's a better way to go," the Oscar-winning actress told the magazine. Pondering why she never settled down, Keaton said, "I think I was not practical. I had some insane idea that I had to be 'in love.' Now I see what it really takes: real consideration that you're a good team together."
The mother of two (Keaton has a daughter, 18, and a son, 13) made similar comments to More in her May cover story. "I told myself I wanted to, but I didn't really want a man that I could have. I wanted the dream," she said of marriage.
But to People magazine, Keaton admits there was one man whom she considered tying the knot with: Al Pacino. "He was even less inclined to be realistic than me," she explained as to why that never worked out. "And I was on the cusp of being very old. So that poor guy. I don't think he was really that interested. And I don't think a long-term happy marriage would be easy for him."
Though she's currently making the media circuit to promote her new book "Let's Just Say It Wasn't Pretty," out April 29, this isn't the first time Keaton has voiced her desire for a life partner.
In in interview with AARP in 2012, Keaton spoke about being a single mother. "As a parent I provide all I can," she said, "but I think in the best possible scenario you need to have a man."
"Relationships are hard. You're lucky if you find someone," she added, according to the Daily Mail.
BEFORE YOU GO
PHOTO GALLERY
Diane Keaton's Style Evolution