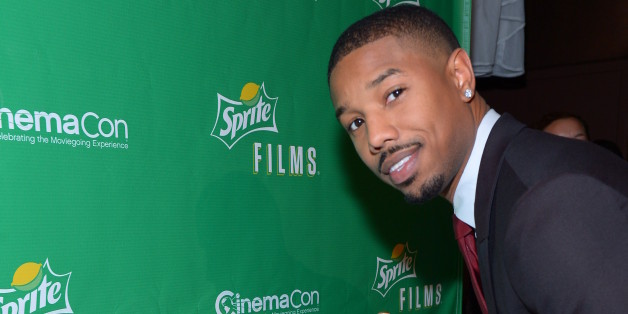 With a slew of films under his belt, Michael B. Jordan is bringing his benevolence to the forefront for his latest initiative. The "Fruitvale Station" star has signed on as a mentor and program ambassador for Sprite Films' national short film competition for up-and-coming filmmakers.
As part of the Coca-Cola Company's annual program, six emerging student filmmakers will compete for a theatrical release of a short film. Under Jordan's guidance, the lucky finalists will have the chance to take in the actor's advice on how to navigate the various challenges and misunderstandings they may encounter during the filmmaking process.
Fans can view and vote for their favorite short film now through May 15 at Sprite.com/films. Winners will be announced this summer, and the Green Ribbon Panel winning film will appear in select theaters nationwide in August.
This week Jordan, 27, took time out from his mentoring duties to chat with The Huffington Post about his Sprite partnership, his forthcoming role in "The Fantastic Four" and Aaron McGruder's absence from the final season of "The Boondocks."
How would you describe your partnership with Sprite Films?
I was able to mentor first-time filmmakers, and really got a chance to look at their films. Sprite Films have developed this incredible program that has given these students this nationwide competition to give them a chance to develop a script, and from those finalists they were able to get involved into this competition and America can view and vote for their short films online. The student filmmaker winner of the Fan Favorite Award will receive a $5,000 donation for their college's film department and a trip to AFI (American Film Institute) Fest 2014.
For first-time film directors, they played such a huge part in my career. All of my movies thus far have been with first-time film directors. And for me, I always feel like I need to give back. Someone had to take a chance on me for the first time. So I'll never shy away from first-time film directors.
What are some of the biggest lessons and personal experiences that you are offering to students?
It depends. I'm talking to all different types of people who want different things from the industry. I had a couple of questions that they asked me -- "How can I make the on-set experience better for a director?" or "How do I make things run smoothly in production?" And I can speak from an actor's perspective. Honestly, I feel like chemistry and giving actors the space, being on set early ... Sometimes with locations it's a lot of hurry and wait. Sometimes it's spur-of-the-moment and things happen really fast. And as an actor, sometimes you want things to slow down a little bit to give you time to observe the world that you're playing in. And that was some of the advice that I gave to some of the producers.
The biggest advice that I gave to directors was just collaboration, not having an ego. Being able to be a team player with everybody on your team.
Speaking toward your point of giving new filmmakers a chance, have you ever considered stepping behind the lens to become a filmmaker? And if so, what genre would you be most interested in?
Honestly, yeah I definitely want to direct at some point. What type of film? I'm not sure yet. Honestly, that's probably why I haven't made those steps so far. And I feel like once I have a firm opinion on a subject or genre, when I have something that I really want to say, then that's when I'm gonna step behind the camera to direct. Until then, I don't really want to do it ... I'm working on my big boy voice. I'm getting older. I'm getting experienced. But once I feel like I have it, then I'll go ahead and do that. It'll probably be a thriller or something.
So you're strictly sticking to acting for now?
Not strictly stick to acting. I'm very big into producing and the creative process in film, television and acting as well. But I know there's a process to this industry and careers. It's a chess board. I'm just playing chess right now.

In terms of your acting career, you're set to star in the forthcoming "Fantastic Four" film. What's the latest status of the film's production?
We haven't technically started yet. We have a few long months ahead of us. So yeah, I haven't touched down in Louisiana yet [where the film will be shot]. I'm en route. But I'm really excited about it. In the months to come you guys are gonna have a lot more stuff come to light.
Aside from landing a role in "Fantastic Four," you also had the opportunity to work on the new and final season of "The Boondocks" as "Pretty Boy Flizzy." What was your experience like behind the scenes?
Pretty Boy Flizzy! That was sooo much fun, man. I saw it last night. I did it such a long time ago. I shot it maybe a year and a half ago. And for it to finally come out, it was so, so funny. I was dying ... But it was a fun experience. [Laughs]
You know sometimes when you can't say the sh*t you really want to say, but through a character like that you could just speak how we would talk to one another, but do it through a cartoon. It was fun. [Laughs]
What were your thoughts when you heard that the show's creator, Aaron McGruder, would no longer be involved in the show?
Man, Aaron is actually a buddy of mine. And honestly I forgot. He had to tell me, not that long ago, that he got fired from it. And I was like, "What, really?!?" It kind of caught me off guard, I totally forgot. Because when you think "Boondocks" you think "Aaron McGruder," period ... It was a little bittersweet, because when I actually signed on to it I was like, "Yeah, of course. Aaron's my boy. Of course I will." And then it was like, "Whoa, wait, wait... really?!" I still did it, because you kind of have to. You gotta pay homage to "Boondocks."
But yeah man, it was just a weird situation ... For anybody who created and started with something, and for them to somehow get pushed out and not be involved with it anymore. But not knowing the specifics behind it or whatever ... So you can't really make that call. I'm not sitting in those rooms. But to see my boy pushed out might be a little messed up.

BEFORE YOU GO
PHOTO GALLERY
Michael B. Jordan