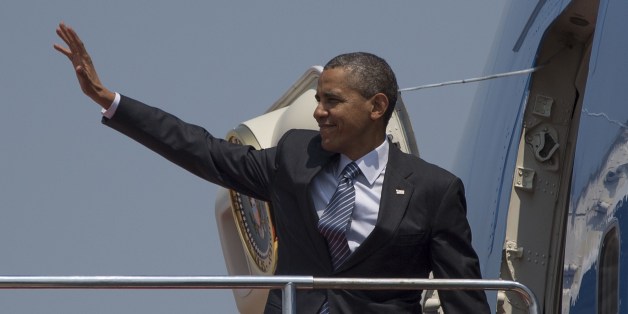 By Antoni Slodkowski and Matt Spetalnick
TOKYO, April 25 (Reuters) - U.S. President Barack Obama neared the end of a state visit to Japan on Friday during which he assured America's close ally that Washington would come to its defence but failed to clinch a trade deal vital to his promised "pivot" to Asia.
Failure to reach a trade deal has delayed a joint statement on security and economic ties that Obama and Prime Minister Shinzo Abe were expected to issue after their summit on Thursday. Japanese Foreign Minister Fumio Kishida told reporters the joint document was in the final stages of being worked out.
Obama and Abe had ordered their top aides to make a final push to reach a trade agreement but Economy Minister Akira Amari told reporters on Friday that gaps remained despite recent progress.
"This time we can't say there's a basic agreement," Amari told reporters after a second day of almost around-the-clock talks failed to settle differences over farm products and cars.
"Overall, the gaps are steadily narrowing," he said.
Tokyo had said the meeting was an "important juncture" for a bilateral deal, which would in turn be central to a delayed 12-nation Trans-Pacific Partnership (TPP) trade pact.
The TPP is high on Abe's economic reform agenda and central to Obama's policy of expanding the U.S. presence in Asia.
Obama, who ends his three-day Japan state visit early on Friday and heads for South Korea, assured Japan that Washington was committed to its defence, including over tiny isles at the heart of a row with China, but denied he had drawn any new "red line" and urged peaceful dialogue over the dispute.
Domestic media said Tokyo was keen to incorporate the comments - which drew a swift rebuke from China - into the broader joint statement between the allies.
China also claims sovereignty over the Japanese-controlled islands, known as the Senkaku in Japan and the Diaoyu in China.
Obama confirmed at a news conference on Thursday the U.S. position that, while Washington takes no stance on the sovereignty of the East China Sea isles, they fall under the scope of a U.S.-Japan treaty that obligates America to defend its ally.
A U.S. official declined to comment on Japanese media reports that said U.S. negotiators had held the joint statement "hostage" in an effort to force Japan to make concessions on trade. But there was a sense of U.S. frustration building on Thursday over the inability to narrow gaps on trade.
Obama, at the start of a four-nation tour, has been treated to a display of pomp and ceremony meant to show that the U.S.-Japan alliance, the main pillar of America's security strategy in Asia, is solid at a time of rising tensions over growing Chinese assertiveness and North Korean nuclear threats.
The diplomatic challenge for Obama during his week-long, four-nation regional tour is to convince Asian partners that Washington is serious about its promised strategic pivot, while at the same time not harming U.S. ties with China, the world's second-biggest economy.
Beijing has painted the "pivot" as effort to contain the rising Asian power. (Writing by Linda Sieg; Editing by Paul Tait)
BEFORE YOU GO
PHOTO GALLERY
Obama's Handshakes Around The World