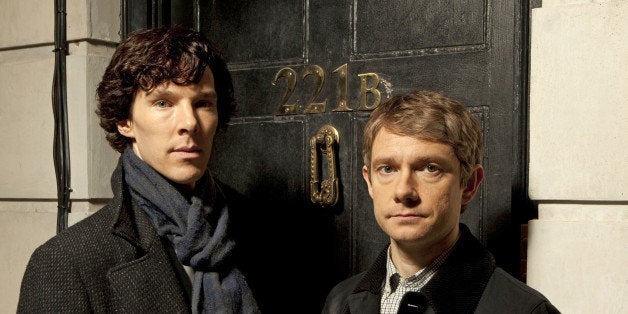 "Sherlock" fans, Martin Freeman may have just made your day, and maybe even your year.
Co-creators Steven Moffat and Mark Gatiss announced back in February that Season 4 of "Sherlock" may be delayed for two years due to Benedict Cumberbatch and Martin Freeman's busy schedules. However, Freeman teased a bit of secret news that may change things.
While appearing on Alan Carr's Channel 4 talk show "Chatty Man," which airs on Friday, April 25, Martin said, "Mark Gatiss may beat me up, but there is an idea for this one-off special that's such a good idea." Wait, what was that Freeman?!
"As I was listening to it," Freeman continued, "I thought 'we've just got to do this.' It's a fantastic, really mouth-watering idea. But I really don't know when we are going to get to do it."
"Mouth-watering," huh? We trust Watson on that and really hope this one-off episode thing happens soon.
BEFORE YOU GO
PHOTO GALLERY
"Doctor Who" Season 7