 Americans in three red states would rather revise than repeal the ACA -- but health care question order may raise concerns about the survey's other results. Three new polls show a close Senate race in Colorado. And the New York Times explains why random sampling works. This is HuffPollster for Thursday, April 24, 2014.
SOUTHERN STATES DISLIKE ACA, BUT DON'T SUPPORT REPEAL - Sabrina Tavernise and Allison Kopicki: "Despite strong dislike of President Obama's handling of health care, a majority of people in three Southern states – Kentucky, Louisiana and North Carolina – would rather that Congress improve his signature health care law than repeal and replace it, according to a New York Times Upshot/Kaiser Family Foundation poll. The poll also found that a majority of Kentucky residents – and a plurality in a fourth state, Arkansas — said they thought the health care marketplace in their state was working well, even as they expressed strong disapproval of the health care law. More than twice as many Kentuckians say their state exchange is working well than say it is not....When asked what states should do about Medicaid, the respondents offered substantial support for expansion." [NYT]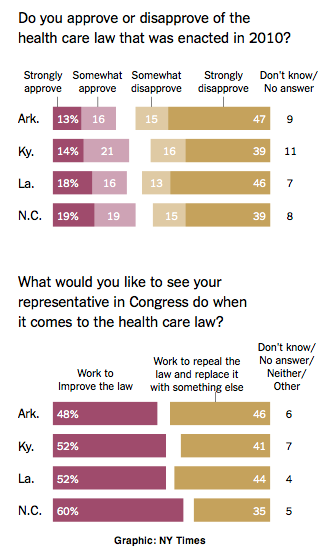 GOP POLLSTER REDOUBLES CRITICISM OF NYT/KAISER POLLS - Yesterday's HuffPollster included a tweet from Republican pollster Neil Newhouse attacking NYT Upshot/Kaiser FF polls released yesterday that showed Democratic incumbents Mark Pryor and Mary Landrieu significantly leading their opponents. Newhouse emailed HuffPollster this morning with more: "Sometimes, it pays just to throw a poll in the trash. That's happening more often with public polls like yesterday's New York Times/Kaiser statewide polls in four southern states. The issues with this polling are pretty clear: Adults were polled rather than registered voters. If the specified purpose of a statewide poll is to track Senate races, why even bother interviewing adults, rather than registered voters? The pollsters used random digit dialing instead of voter lists. The result of that decision in a statewide poll is a less accurate and less reliable sample, with a much higher likelihood of including non-voters....Even though the folks at the NYT didn't throw out these results, that doesn't mean you shouldn't."
The polls measured the Senate races and Obamacare... - "One of the primary purposes of the poll was to examine state residents' views and experiences with the ACA," Kaiser Family Foundation pollster Mollyann Brodie tells HuffPollster via email. "So that's why we interviewed all adults and not just voters." As should be obvious, a survey drawn from registered voter files cannot reach all adults.
...but Newhouse isn't buying it - Newhouse: "Based on the states they selected, I'd say their top priority was clearly the Senate races. Otherwise, do a national. They wanted their polls to be inserted into the discussion of whether D's can hold onto the Senate...[Also] they asked 20 some odd questions on the ACA prior to the ballots? Really? Think that might have some impact on the ballot?"
Question order involved a trade-off - More from Kaiser's Brodie: "We had a discussion about question order and considered asking the horse race questions earlier in the questionnaire, but we were just as worried about asking ACA approval after a bunch of political questions (hence, putting the ACA in political context) as we were about asking about the horse race after the ACA questions. Six months out from the election, we chose to go with a 'cleaner' measure on ACA approval, and live with the fact that respondents may have been primed to think about the ACA when answering the horse race question (note that the horse race questions were ONLY asked of registered voters and only reported that way, not of all adults). As you know, question order is a tricky thing and one often has to make compromises when a survey has multiple aims (both to provide information about state residents' views on the ACA and to look at the political races)."
The NYT/Kaiser section on the ACA consisted of roughly 20 questions that probed attitudes on Obamacare, including questions about whether the law "caused many people" in your state "to lose coverage" and whether people they knew "lost their job or had had their hours cut because of health care." As HuffPollster has reported previously, questions asked just before the vote test can have an impact on the horse race results. If the focus on Obamacare resulted in greater support for the Democratic candidates toward the end of the poll, however, it would suggest the ACA may be less toxic for Democrats than some have assumed. HuffPost]
Buried lede? Newhouse's embrace of registered voter list sampling - At a reporter breakfast in November 2010, Newhouse's partner Bill McInturff explained that with the exception of California a state with very high quality vote lists, "our firm is really committed to random digit dial." He explained that the use of a voter list requires matching addresses to phone directories to obtain a telephone number. "Phone matched lists don't match well for blacks, Hispanic voters and especially younger women. So gosh, guess what? Guess who doesn't vote Republican? Those three to four groups." The inability to match to cell phones, he added, creates similar problems. "In general we are virulent on the topic of, other than in California, of random digit dial."
THREE POLLS SHOW CLOSE COLORADO SENATE RACE - Stephen Calabria: "A trio of new polls of Colorado's 2014 Senate race show incumbent Democratic Sen. Mark Udall virtually deadlocked with Rep. Cory Gardner, his lead Republican challenger. The first poll, conducted by the Democratic firm Public Policy Polling (PPP) for the National Coalition for Safer Roads, found Udall leading Gardner by just 2 points, 47 percent to 45 percent. The second poll, conducted by the firm Fabrizio, Lee & Associates on behalf of the U.S. Chamber of Commerce, found Udall trailing Gardner by a 2-point margin, 44 percent to 42 percent. The third poll, conducted by Quinnipiac University, found Udall ahead of Gardner by just a single point, 45 percent to 44 percent….HuffPost's polling model, which includes all publicly available surveys, gives Udall just under 46 percent and Gardner just under 45 percent." [HuffPost]
HUFFPOLLSTER VIA EMAIL! - You can receive this daily update every weekday via email! Just click here, enter your email address, and and click "sign up." That's all there is to it (and you can unsubscribe anytime).
THURSDAY'S 'OUTLIERS' - Links to the best of news at the intersection of polling, politics and political data:
-Rasmussen gives Charlie Crist a 6-point lead over Rick Scott. [Rasmussen]
-North Carolina's GOP Senate primary debate left Thom Tillis the frontrunner, but gave Greg Brannon a boost among watchers. [SurveyUSA]
-Jerry Brown remains the clear frontrunner in California's gubernatorial primary. [PPIC]
-Southern whites' loyalty to the GOP is nearing that of blacks' to Democrats, Nate Cohn says. Larry Bartels disagrees. [Original NYT piece, Bartel's response, Cohn's reply]
-Jonathan Bernstein predicts anti-ACA sentiment will taper off. [Bloomberg]
-Glover Park Group posts a roundup of public polls on energy and the environment. [GPG]
-David Lazar dubs the Google Flu Trends debacle the Dewey defeats Truman moment for big data. [Technology Review]
-Simon Rogers calls on data journalists to make their data publicly available. [Mother Jones]
Megan Thee-Brenan explains how random sampling works. [NYT]
CORRECTION: An earlier version of this story misspelled Mollyann Brodie's name.