Fierce gun battles between Ukrainian army forces and pro-Russia militiamen who have occupied government buildings in the city of Slaviansk left several separatists dead on Thursday. The Ukrainian military moved further into the contested areas as part of an 'anti-terror' operation to retake control of the nation's east.
During the operation, Ukrainian soldiers moved past flaming barricades set up by militiamen, as helicopters above reportedly dropped fliers warning citizens to stay away from potential targets of the advance. The government's mission drew stern condemnation from Russia, whose military has begun exercises along Ukraine's eastern border in response.
On the ground to capture the events in Slaviansk were a number of brave photojournalists whose excellent work is exhibited below. Their images provide a stark view of the city that has become a focal point of the crisis in Ukraine.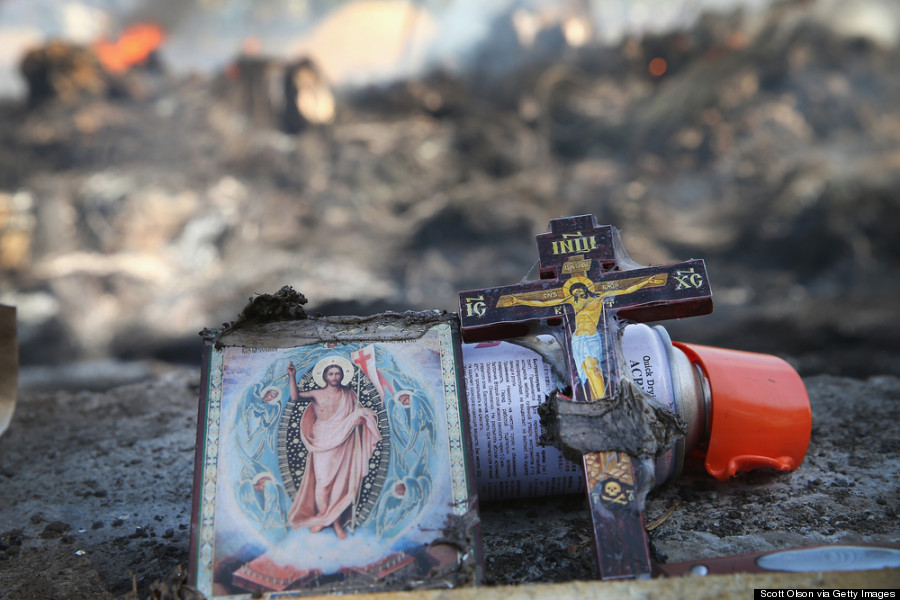 Religious items salvaged from the fire sit next to a burning Russian separatist roadblock outside the village of Khrestyshche on April 24, 2014 near Slaviansk, Ukraine. (Scott Olson/Getty Images)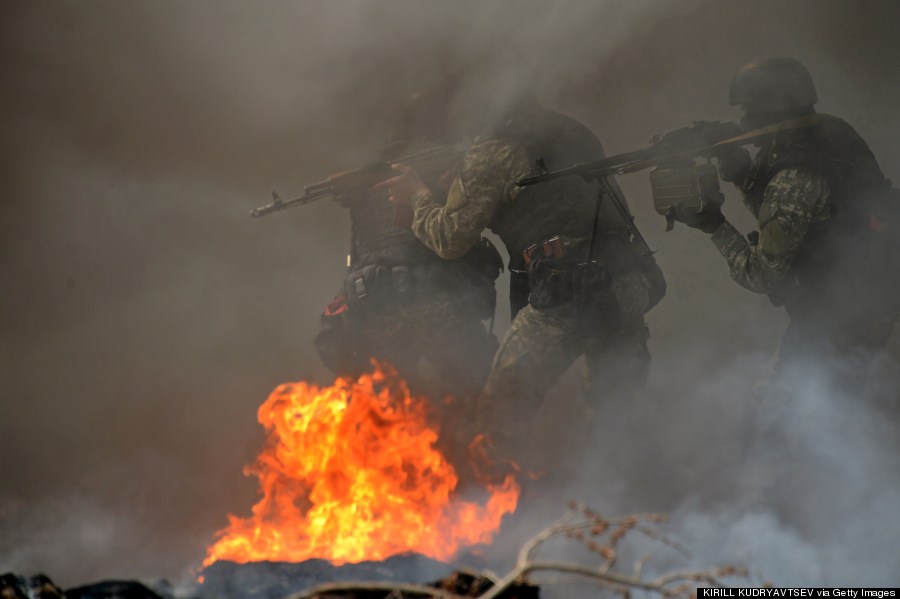 A member of the Ukrainian special forces takes position at an abandoned roadblock in the eastern Ukrainian city of Slaviansk on April 24, 2014. (Kirill Kudryavtsev/AFP/Getty Images)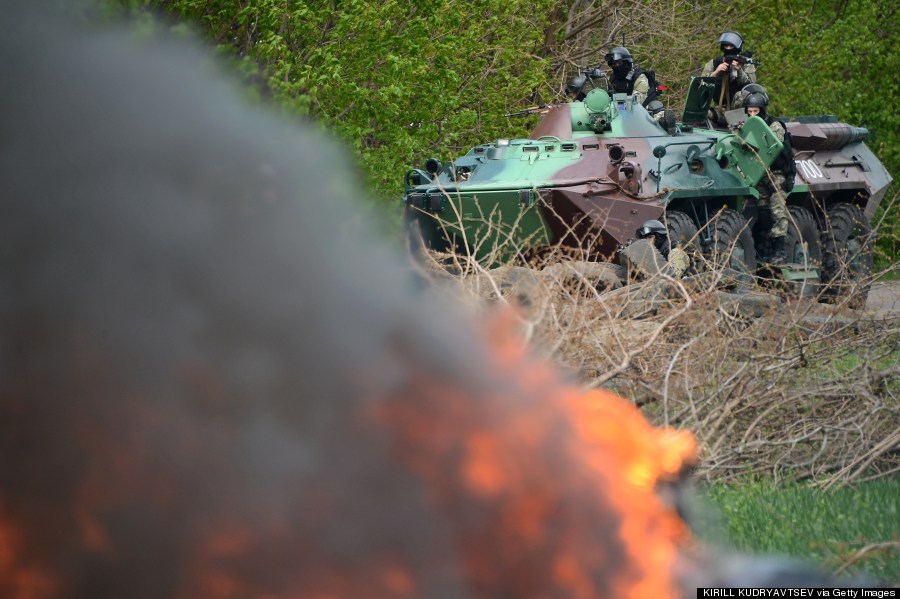 Ukrainian city of Slaviansk on April 24, 2014. (Kirill Kudryavtsev/AFP/Getty Images)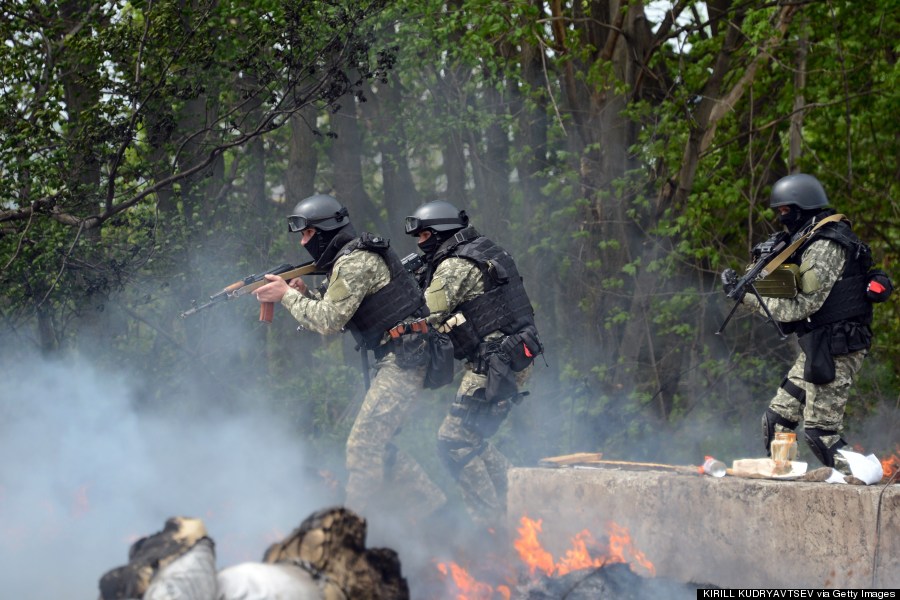 Ukrainian special forces take position at an abandoned roadblock in the eastern Ukrainian city of Slaviansk on April 24, 2014. (Kirill Kudryavtsev/AFP/Getty Images)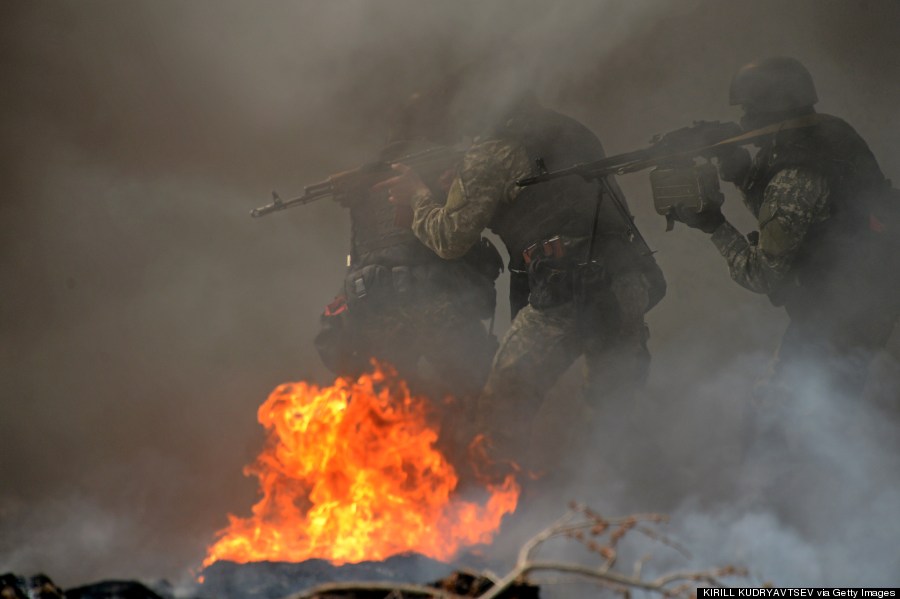 (Kirill Kudryavtsev/AFP/Getty Images)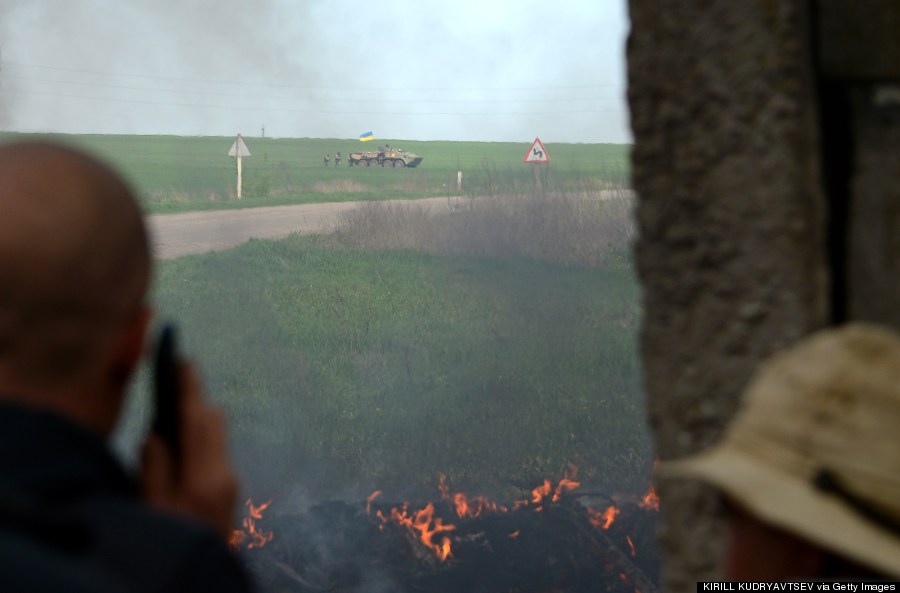 Ukrainian special forces take position in the eastern Ukrainian city of Slaviansk on April 24, 2014. (Kirill Kudryavtsev/AFP/Getty Images)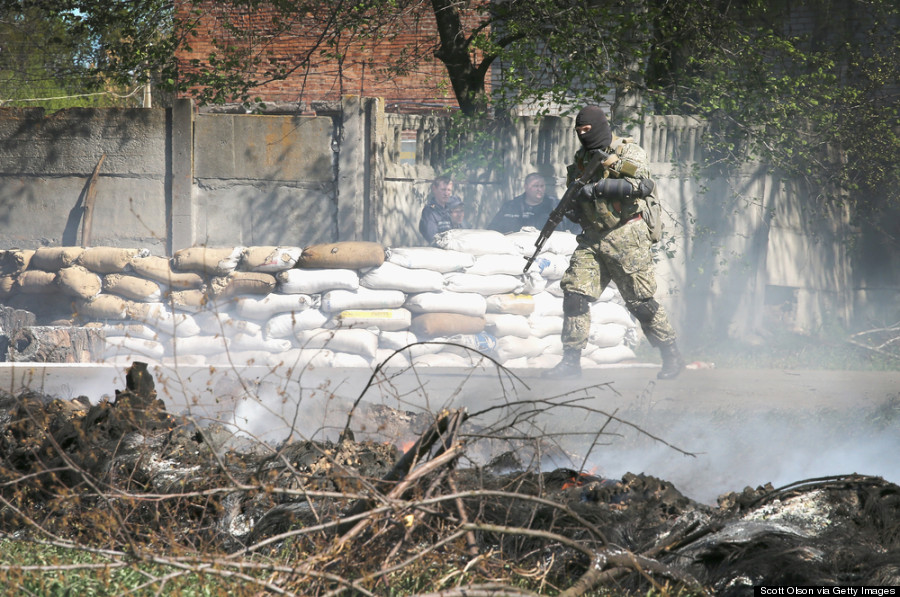 A pro-Russian militant takes up a defensive position at a smoldering roadblock outside the village of Khrestyshche on April 24, 2014 near Slaviansk, Ukraine. (Scott Olson/Getty Images)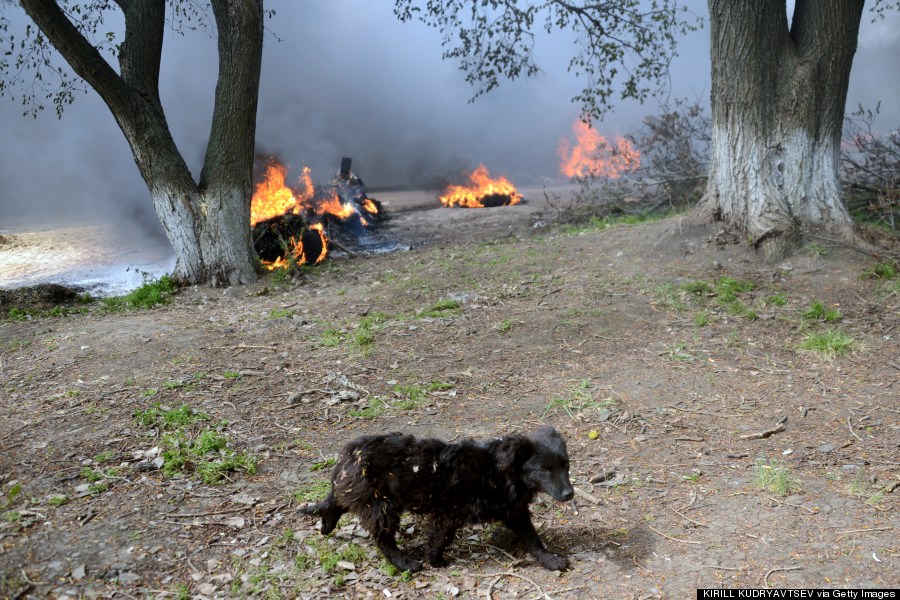 A dog walks past a road check-point as Ukrainian special forces take position in the eastern Ukrainian city of Slavyansk on April 24, 2014. (Kirill Kudryavtsev/AFP/Getty Images)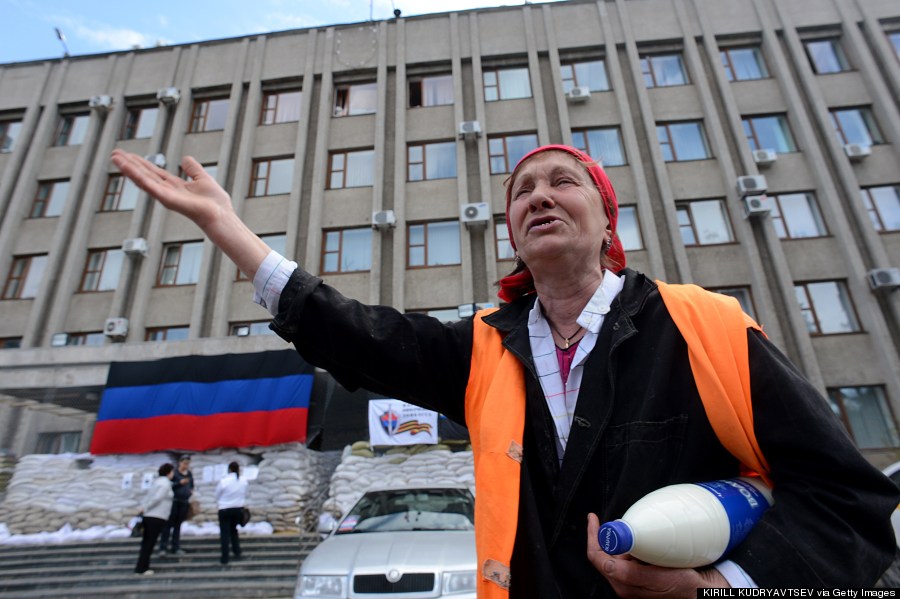 A woman holding a bottle of milk gestures as she stands near a barricade outside the regional administration building as Ukrainian special forces take position in the eastern Ukrainian city of Slaviansk on April 24, 2014. (Kirill Kudryavtsev/AFP/Getty Images)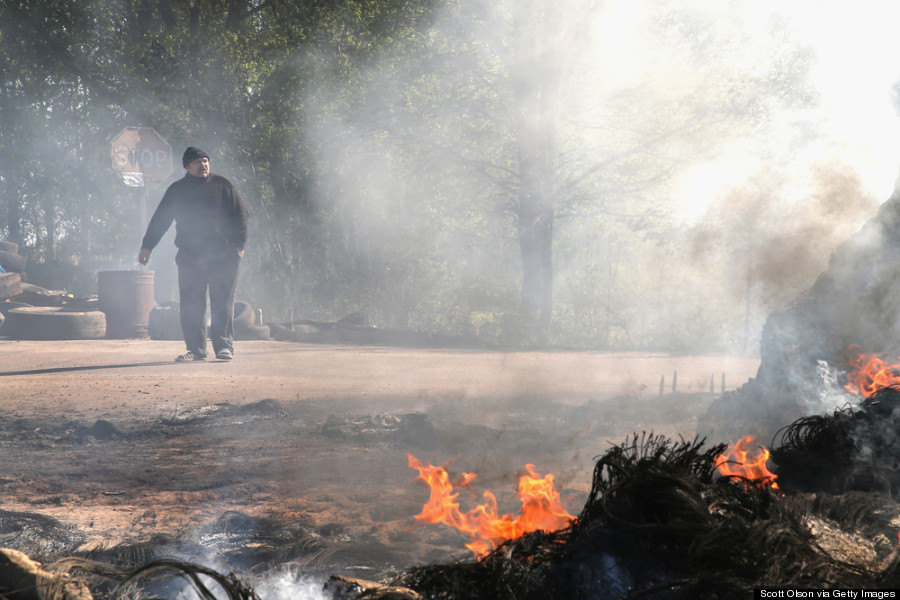 A pro-Russian activist guards a burning roadblock outside the village of Khrestyshche on April 24, 2014 near Slaviansk, Ukraine. (Scott Olson/Getty Images)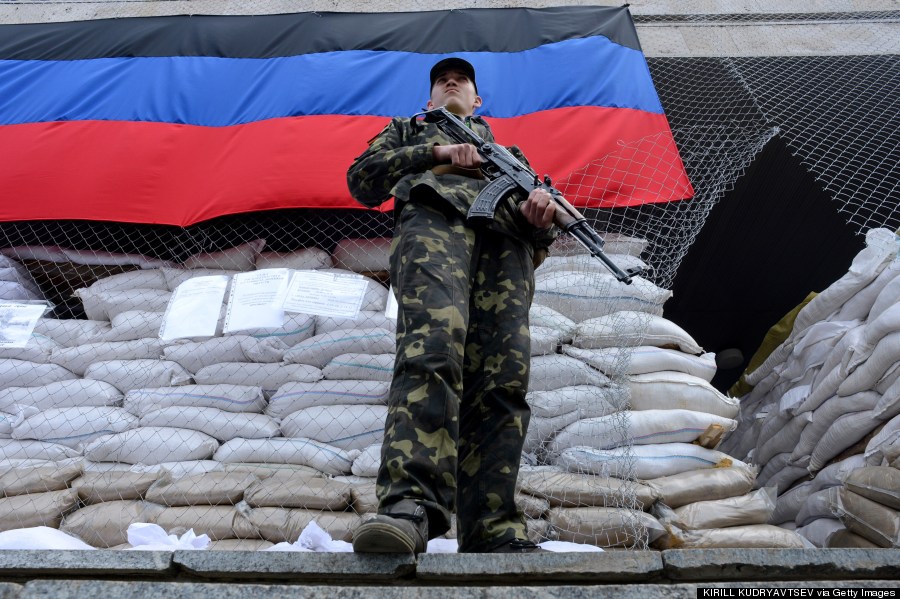 An armed man in military fatigues stands guard outside a regional administration building seized by pro-Russian separatists in the eastern Ukrainian city of Slaviansk on April 24, 2014. (Photo by Kirill Kudryavtsev/AFP/Getty Images)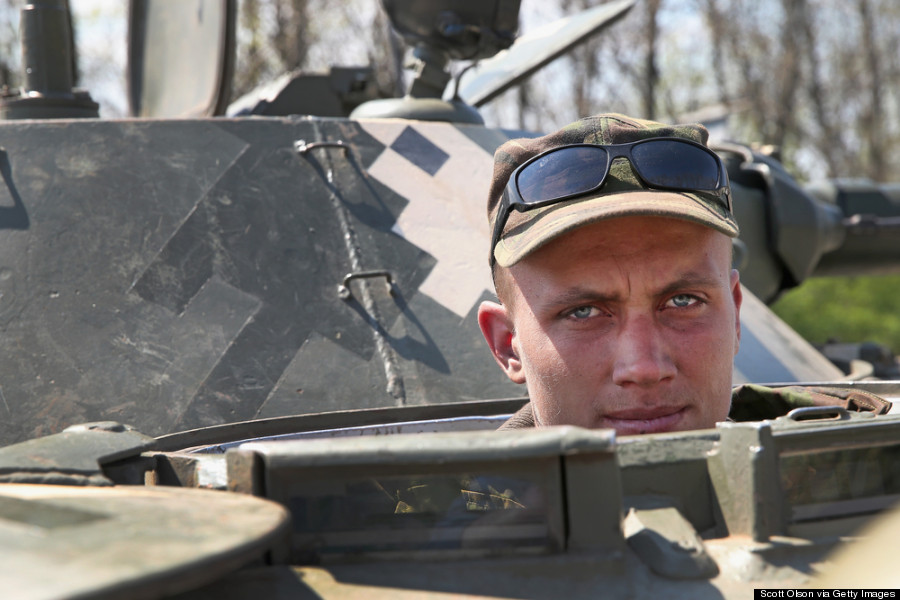 A Ukrainian soldier looks out of a tank while he guards a roadblock along the highway on April 24, 2014 near Slaviansk, Ukraine. (Scott Olson/Getty Images)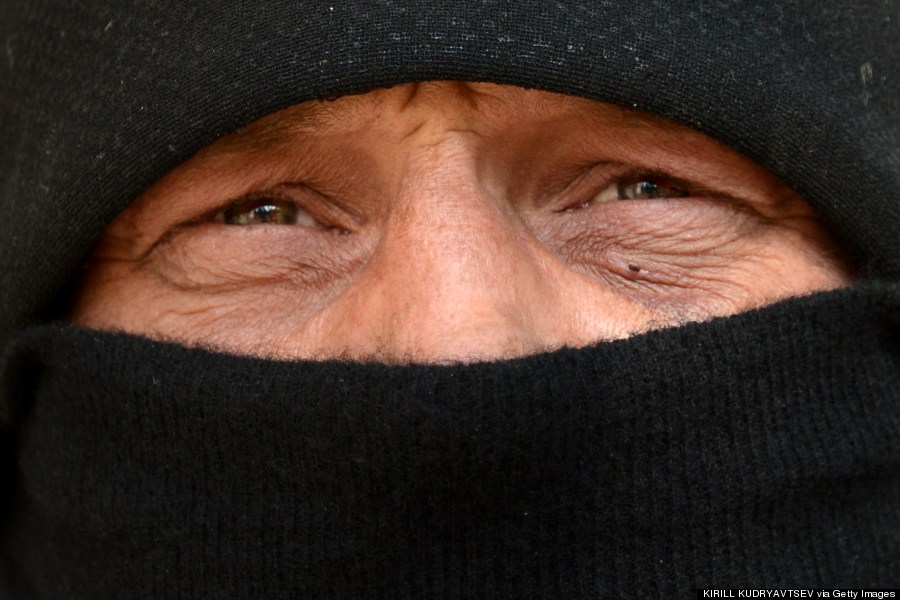 A masked armed man stands guard outside the regional police building seized by pro-Russia separatists in the eastern Ukrainian city of Slaviansk on April 24, 2014. (Kirill Kudryavtsev/AFP/Getty Images)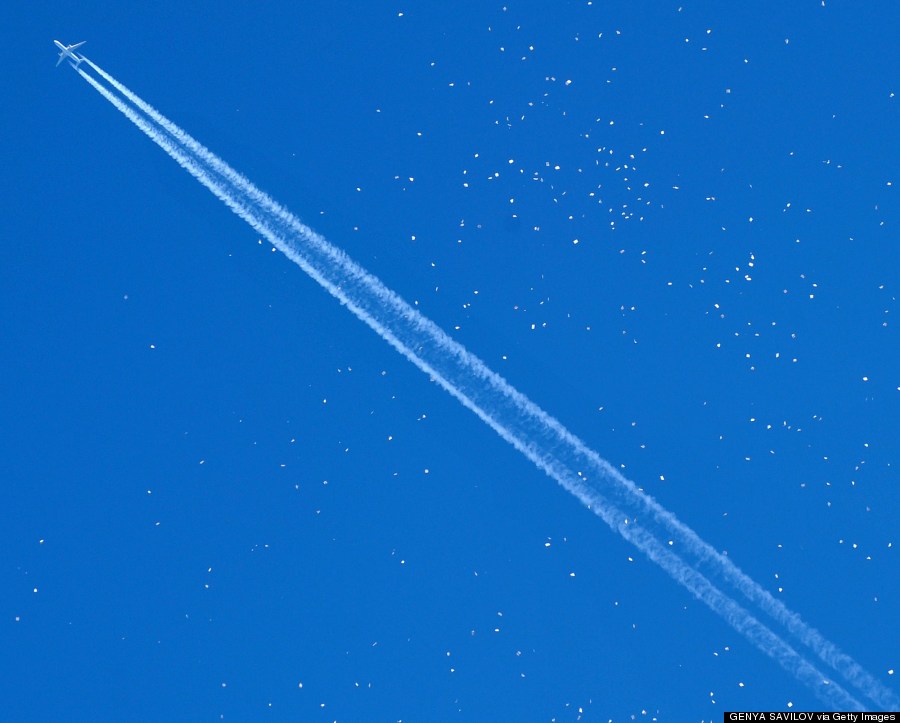 A plane flies in the sky as leaflets fall down after they were dropped by a Ukrainian helicopter above the eastern Ukrainian city of Slaviansk on April 24, 2014. (Genya Slavilov/AFP/Getty Images)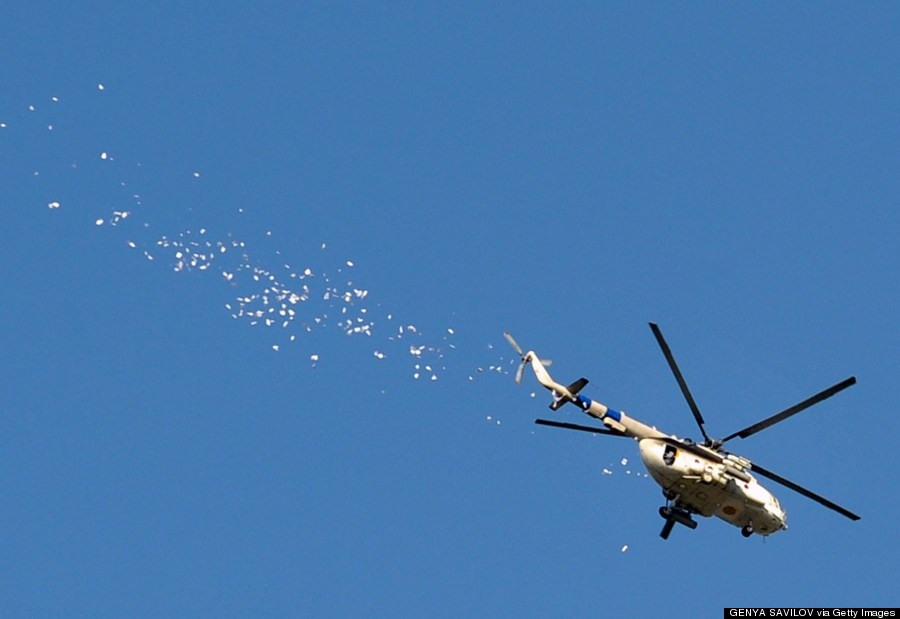 A Ukrainian helicopter drops leaflets as it flies above the eastern Ukrainian city of Slaviansk on April 24, 2014. (Genya Slavilov/AFP/Getty Images)

Here's a close up of the leaflets being dropped in the photo above:
Wow: this just fell from sky in #Slaviansk. 1000s of pro-#Ukraine leaflets warning 'Don't come near govt buildings.' pic.twitter.com/TP3nZhSa2j

— Mitch Potter (@MPwrites) April 24, 2014
BEFORE YOU GO
PHOTO GALLERY
Trouble In Ukraine's East