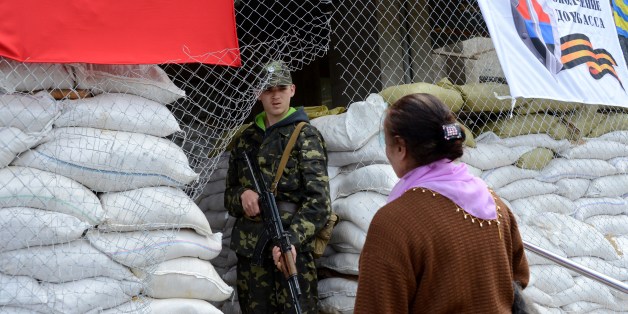 KIEV, April 24 (Reuters) - Ukraine's acting president Oleksander Turchinov called on Russia on Thursday to pull troops back from their border, stop interfering in Ukraine's internal affairs and end its "permanent threats and blackmail".
Turchinov broadcast his brief address to the nation after Russia said it had begun military exercises near the border in response to escalation by Ukraine.
Saying Russia was "demonstratively concentrating armed forces" on the frontier, Turchinov added: "We will not give in to terrorist threats and will go on taking measures to protect the lives of our citizens.
"We demand Russia end its interference in the internal affairs of Ukraine, its permanent threats and blackmail, and withdraw its troops from the eastern border of our country."
Ukrainian Interior Ministry and Defence Ministry forces were in action against pro-Russian separatist rebels near the eastern city of Slaviansk on Thursday and said they killed "up to five".
Russian President Vladimir Putin, who has promised to protect Russian-speakers in Ukraine, said earlier in the day that there would be consequences if the authorities in Kiev used the army against their own people. (Reporting by Natalia Zinets and Alastair Macdonald; Editing by Angus MacSwan)
BEFORE YOU GO
PHOTO GALLERY
Separatists Tighten Control On East Ukraine