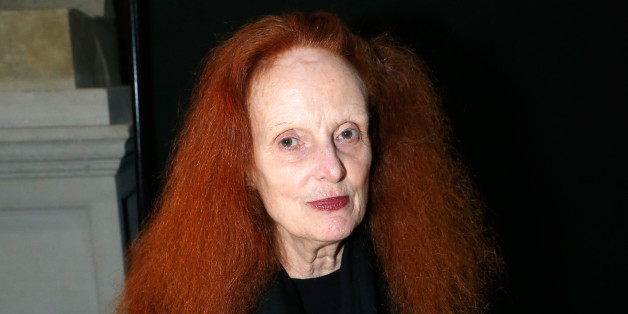 From LOL-worthy videos to angry tweets, it seems like everyone has an opinion on the now infamous Kimye Vogue cover. Even Anna Wintour herself had something to say at the time the glossy hit newsstands.
But now, it seems there was someone else who came up with the idea to feature the #worldsmostfamouscouple -- Vogue's creative director Grace Coddington.
According to an interview with Financial Times, Coddington, who became recognizable after appearing in "The September Issue," had a large say in the decision, contrary to rumors that Kanye may have pushed their way in.
"There was a wedding story to be done, and Anna probably had them in mind, because she had been seeing a lot of Kanye, so she said, 'Maybe we should shoot it on lookalikes.' And I thought, 'Why not just do it on the real thing? This is Vogue.' And I do think Kim Kardashian represents this moment in our culture. I'm fascinated by her, in the same way I'm fascinated by the people I see on the street or the subway."
While it's a bit questionable to think that Vogue's editor in chief would shoot a bunch of clones when they could so easily land the real thing, especially for the cover, and we're not sure how Kim would feel being compared to just a regular person on the subway, Coddington does have a point. The buzz around the rapper and reality star's nuptials has been extremely palpable. If any couple was going to be on the cover, the choice seems pretty obvious.
Coddington also was candid about the experience of working with Kim, and the backlash the mag faced as a result:
"It was fun. [Kim] is very professional. And the baby [the couple's daughter, North] is very well-behaved. We did millions of pictures and she did not cry once. I got quite upset we did not have the baby on the cover. I knew going in it would be controversial – I got an envelope from Texas, with the cover ripped up into little pieces inside – but the designers all sent me flowers, so I guess they were happy."
Seeing as the issue is slated to outsell both Beyoncé and Michelle Obama's covers, something tells us they're not all that upset about the negativity over at the Vogue offices.
Click here to read the entire interview with Coddington.
BEFORE YOU GO
PHOTO GALLERY
Vintage Vogue Covers