Forget walking through fire, one mother horse stood directly in the fire to protect her offspring from the flames.
In a stirring case out of Texas, a pony saved her foal by shielding the 2-week-old horse from a barn fire that broke out by accident earlier this month when a heat lamp started an electrical fire. When firefighters arrived at the blaze in Alvarado they discovered that Bella had backed her foal, Butterscotch, into a corner to protect her from the flames and falling debris.
(Story continues below)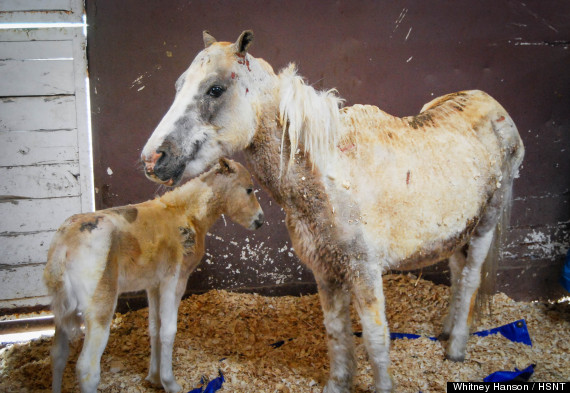 "It's just that mother-daughter bond ... it's an instinct," Whitney Hanson of the Humane Society of North Texas, which took over care of the two horses, told WFAA. "She was ready to die for her baby."
Both horses miraculously survived the fire and are recovering at a special equine clinic in the area. After the April 6 blaze, the local Humane Society chapter asked the public to contribute $4,000 in donations to fund Bella and Butterscotch's twice-daily disinfectant treatments, according to the Star-Telegram.
It seems the public listened and HSNT's original donations goal was met in no time. Now, the chapter is asking for more contributions to help with Bella's advanced care.
BEFORE YOU GO
PHOTO GALLERY
Animal Moms And Babies