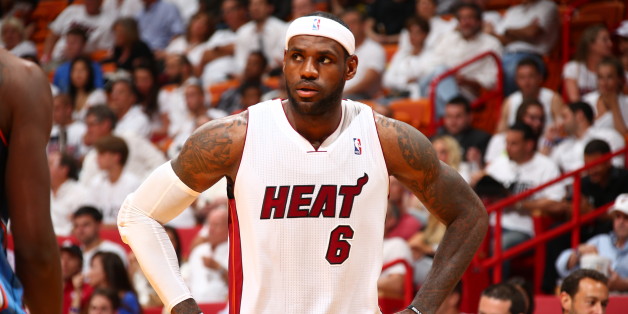 Miami Heat superstar LeBron James had some strong words for Los Angeles Clippers owner Donald Sterling, who was allegedly caught on tape making racist comments to his girlfriend. According to an audio recording obtained by TMZ, Sterling told his girlfriend, V. Stiviano, that he doesn't want her to bring black people to games.
Before taking on the Charlotte Bobcats in Game 3 of Miami's first-round playoff series, James said that if the report is true, then "there is no room for Donald Sterling in our league."
"It's unacceptable and as a commissioner in our league, they have to make a stand, and they have to be very aggressive with it. I don't know what it's going to be, but you just can't have that in our league," James said, via the Miami Herald. The four-time NBA MVP also said he even contemplated not playing. "I kind of wavered back and forth whether I would actually sit out. If our owner would come out and say the things that he said, I would really have to sit down with my teammates, talk to my family because at the end of the day, our family, and our teammates are way more important than that."
James also wondered aloud what would happened to a player "came out and said something of that stature" and called on NBA commissioner Adam Silver to "do something very fast and quickly before this really gets out of hand."
LeBron was not alone. TNT analyst and former NBA star Charles Barkley said Silver "suspend [Sterling] and fine him immediately." Los Angeles Lakers legend Magic Johnson described Sterling's alleged remarks as a "black eye for the NBA."
Clippers President Andy Roeser issued a statement on Saturday saying that the team doesn't know if the recording is "legitimate or it has been altered," per TMZ.
"Mr. Sterling is emphatic that what is reflected on that recording is not consistent with, nor does it reflect his views, beliefs or feelings. It is the antithesis of who he is, what he believes and how he has lived his life."