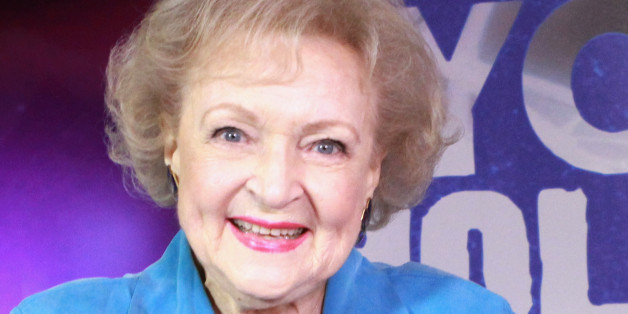 Our favorite "Golden Girl," Betty White, took to Reddit today for the site's popular Ask Me Anything session. Betty decided to take part in the question-answer session with users to celebrate the taping of the 100th episode of her hit show, "Hot in Cleveland." The naughty nonagenarian has quite the fan-following, so it's no surprise that thousands of readers jumped at the opportunity to ask her some serious, and seriously ridiculous, questions. From how she stays young to her favorite part of her job, nothing was off limits. Check out some of Betty's best answers below.
On that infamous Snickers commercial...

On the coolest name for a band...

On the invention she's most thankful for...

On her favorite character...

On the best part of her job...

On her choice of breakfast foods...

On her guiltiest pleasure...

On a typical day in her life...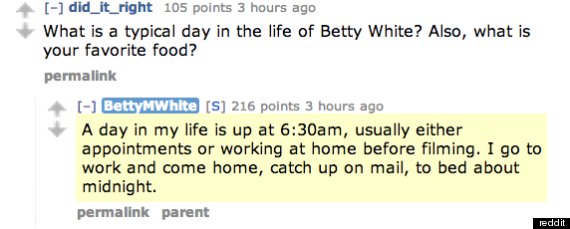 On her favorite tipple...

On her favorite smells...

On what's kept her going all these years...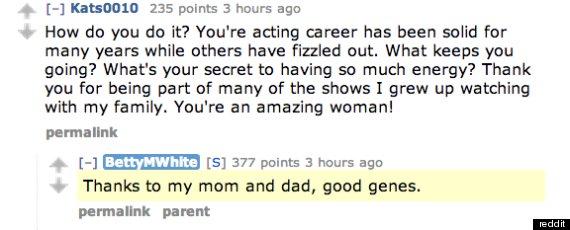 On what she might have been in a different life...

On her secret addiction...

On why nobody can compare to her...

On how she stays ageless...at 92!

This is exactly why we love Betty!

BEFORE YOU GO
PHOTO GALLERY
Top 10 Betty White Quotes