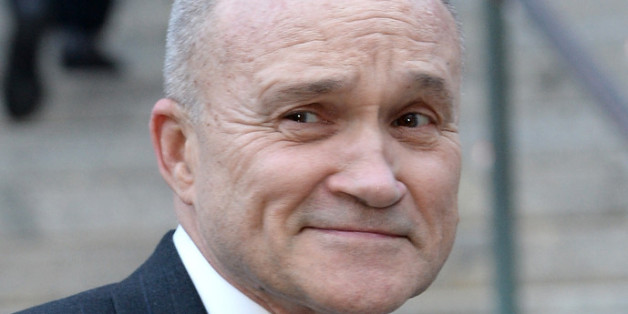 NEW YORK -- The NYPD's former spokesman has claimed in his most detailed accounting yet that a shuttered spying squad saved lives. But a closer look at court records suggests that the controversial Demographics Unit played at most a minor role in thwarting an alleged terror plot that never approached execution.
Former NYPD spokesman Paul Browne defended the department's dragnet surveillance of Muslim communities, practiced under former Commissioner Ray Kelly but shut down April 15, in an opinion piece last week for the New York Post. He claimed that the Muslim surveillance program "saved lives," and theorized that the Demographics Unit meant the NYPD "would've been in a good position to know where to look" for the Boston bombers, if they had made it to New York.
But the primary example he gives to tout the unit's role in derailing a specific, named plot is case of Raees Alam Qazi, a Pakistani-American man who allegedly conspired with his brother to blow up New York City landmarks to avenge drone strike victims.
Browne's retelling of the Qazi cases suggests the Demographics Unit played a central role in stopping the plot, which, if accurate, would introduce a crucial new element into the debate over the Demographics Unit. Civil liberties advocates had criticized the unit for "mapping" hundreds of locations associated with Muslims throughout the New York area. They seized in particular on the fact that the unit, by the NYPD's own admission, never produced an investigative lead.
Browne has previously suggested the Demographic Unit's surveys helped NYPD investigations that were already underway, but this is the first time he's claimed its work provided a crucial break in a terror case. While Browne's latest defense of the NYPD's surveillance of Muslims suggests that the controversial program produced results, court documents for the Qazi case indicate otherwise.
The FBI arrested Qazi in Fort Lauderdale, Florida, on Nov. 29, 2012, on federal charges of plotting to use a weapon of mass destruction and provide material support of terrorism. On Nov. 23, Qazi had hitched a ride up from his Florida home. According to Browne, at some point in between, federal agents "didn't know where in New York City he was."
"The NPYD's Intelligence Division (sic), it turned out, knew exactly where to look -- because it already knew places in the metro area that might be inclined to open their doors for the night to a cash-strapped transient enamored with al Qaeda," Browne wrote. "It then sent an NYPD undercover officer into one of those locations and confirmed Qazi's presence there. That allowed federal authorities to initiate surveillance and arrest Qazi on terrorism charges as he stepped off a bus in Ft. Lauderdale on his way home soon thereafter."
Browne did not respond to multiple requests for comment on the Demographics Unit's role in tracking Qazi.
But his suggestion that federal authorities "initiate(d) surveillance" only after help from the NYPD is at odds with well-established facts in the case. And his headline's suggestion that foiling the alleged plot "saved lives" also appears to be a stretch, since Qazi never came close to pulling off an attack.
The federal government's surveillance of Qazi began long before before his trip to New York, according to court documents and the Miami New Times. In 2010, he told a security guard at the Miami International Airport on his way to Pakistan that he did not like America.
"From that moment forward, the skinny and disheveled youth would be watched," the Miami New Times wrote.
The surveillance was wide-ranging and intense. It included "many recordings from cooperating sources, telephone recordings and other audio recordings," according to an FBI agent's December 2012 testimony. The FBI had at least two confidential informants on the case. The computer Qazi obtained to search for information on plastic explosives was owned and bugged by the bureau. Even the National Security Agency may have been involved, using controversial wiretapping powers.
Once in New York, Qazi slept in a restaurant, on public transit and at a mosque, as he told the feds in a statement upon his arrest. He biked around Times Square, allegedly scouting out locations to attack. At one of these places -- perhaps the restaurant or the mosque, as both locations were of the sort that the NYPD's Demographics Unit often haunted -- his location was apparently "confirmed" by an NYPD undercover.
Browne did not state whether federal authorities lost track of Qazi for hours or days. He also did not explain why the NYPD's work was uniquely valuable in a case where the federal government was already running surveillance and recording Qazi's telephone calls.
Don Borelli, the FBI former assistant special agent in charge for the New York Joint Terrorism Task Force, told HuffPost that, in general, the information produced by the Demographics Unit appears to have been of little worth. He was not involved in the Qazi case, but saw reports filter over his desk with details apparently produced by the Demographics Unit.
"I think most officers involved in community affairs can kind of tell you the demographics of their neighborhood or the precinct," he said. "And they can do it in the community policing type of approach, as opposed to an undercover mapping unit."
Borelli believes New York City Police Commissioner Bill Bratton made a smart decision in scrapping the controversial spying unit. He also noted when the Associated Press first revealed the Demographics Unit's existence, Browne, who either lied or was misinformed, claimed it did not exist.
"He's gone full circle to now saying, yes it exists, and it's a great thing. It's kind of funny," Borelli said.
Browne's opinion article also did not address another element in assessing whether the Demographics Unit "saved lives": Qazi's questionable capability to carry out an attack.
Qazi's alleged intention in New York, apparently known to federal authorities, was "to obtain a job, and he was looking for a job in order to support himself and to be able to buy explosives so he could build an explosive." He needed money because his sole source of support, other than trading bikes on Craigslist, was his taxi driver brother.
Qazi "never specifically picked one" target, according to an FBI agent's court testimony. He never had a bomb, either. Alone in New York, he was apparently confronted with just how little he had accomplished.
"He decided to return home in order for him to get more resources. Money. Equipment, and he was going to practice at home before he returned back to New York," an FBI agent said.
Arrested as he got off a Greyhound bus, he never got close.
BEFORE YOU GO
PHOTO GALLERY
U.S. State Capitol Buildings