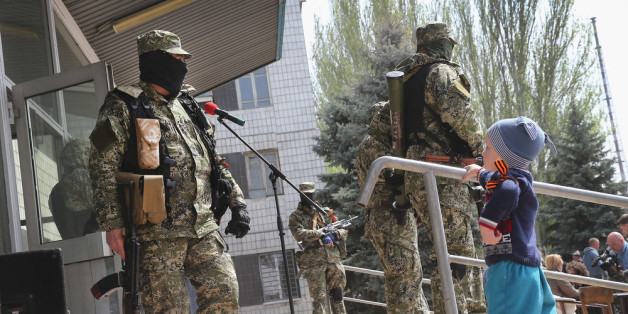 Most Americans support increasing sanctions on Russian leaders, though an even larger majority opposes providing military supplies to the Ukrainian government, according to a Pew Research Center/USA Today poll released Monday.
Americans support increasing economic and diplomatic sanctions on Russia by a 53 percent to 36 percent margin, the poll found, with majorities in both parties approving. However, Americans oppose the prospect of sending arms and military supplies to the Ukrainian government by an even larger margin, 62 percent to 30 percent. Opposition to military support spans most demographics, including age, gender, income and partisan affiliation.
Opinions were divided, however, on President Barack Obama's handling of the situation between Russia and Ukraine, with 6 percent saying he was too tough, 35 percent that he wasn't tough enough, and 40 percent that he was being about right. Americans split along partisan lines: 56 percent of Democrats said Obama was "about right," while 55 percent of Republicans thought he wasn't tough enough.
The poll's findings come as the United States imposed a new round of sanctions on more than two dozen Russian officials and companies on Monday. The measures imposed included asset freezes and visa bans. Russian President Vladimir Putin was not targeted in the sanctions.
The Pew/USA Today telephone survey was conducted from April 23-27 among 1,501 adults.
BEFORE YOU GO
PHOTO GALLERY
Separatists Tighten Control On East Ukraine