Leaving little to the imagination in the June 2014 issue of Cosmopolitan, Chrissy Teigen insists her sex life with husband John Legend isn't "freaky-deaky." Teigen and Legend married last year after six years together and sure know how to keep the spark alive.
"We're by no means freaky-deaky, but let's just say, we're open to things," she told Cosmopolitan. "We're very okay with PDA. When we go to a restaurant, he loves when I wear a dress, so he can do some upper-thigh rubbing."
Apparently, the pair is also open to some mile-high activity.
"We were on our way to Thailand to see my parents, flying commercial first-class," Teigen said of the craziest place they've ever had sex. "We were under a blanket. We weren't even in one of those pod things. I feel like we should get a trophy for that."
After telling Cosmo about her steamy encounter, the secret was obviously out.
I AM ON THE COVER OF COSMOPOLITAN MAGAZINE. THREE COVERS. YOU BET YOUR ASS I AM YELLING THIS

— christine teigen (@chrissyteigen) April 28, 2014
and yes my entire family now knows I had sex on a plane and yes i want to die thank you for asking

— christine teigen (@chrissyteigen) April 28, 2014
Read Teigen's full interview in the new issue of Cosmo, on newsstands May 6.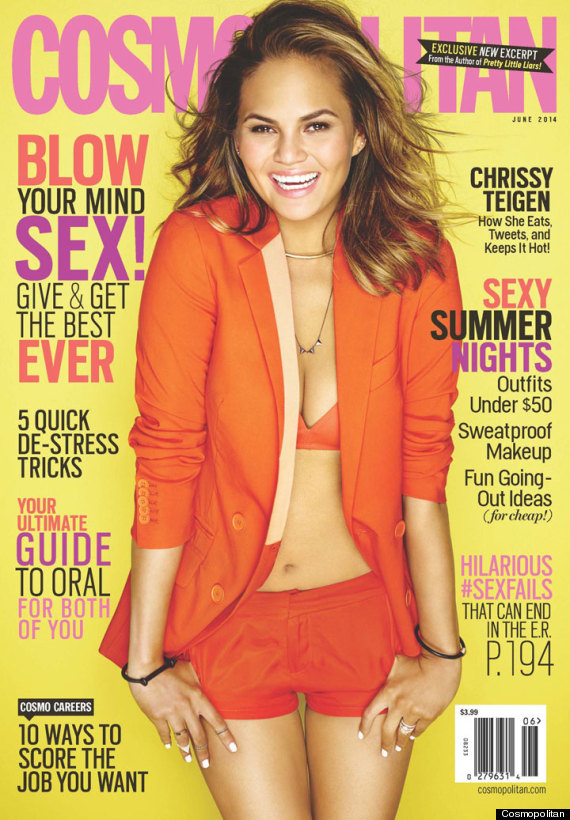 BEFORE YOU GO
PHOTO GALLERY
Celebrity TMI Moments