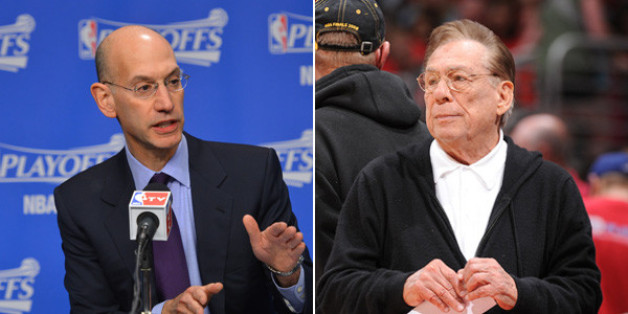 As a mass of reporters awaited NBA Commissioner Adam Silver in New York City on Tuesday afternoon, Los Angeles Clippers owner Donald Sterling was apparently on the telephone with FOX News contributor Jim Gray. At that point, the longtime owner of the Clippers reportedly indicated that he planned to continue owning the team for a long time.
"I just spoke with Donald Sterling on the telephone, just moments ago," Gray said during a live FOX News broadcast. "He is unaware of what is going to happen to him. He has not been notified. He also said that he really didn't want to comment on the record. However, the team is not for sale and he will not be selling the team."
WATCH: Jim Gray Discusses Conversation With Donald Sterling
(Video via
The Big Lead
)
Not long after Gray revealed these details from his conversation with Sterling, Silver stepped to the podium with a different plan for the future of the Clippers. Facing the first major crisis since becoming NBA Commissioner in February, he announced that Sterling would be banned for life from the NBA and be fined $2.5 million. Silver also made it clear that he intends for Sterling to be forced to sell the Clippers.
"I will urge the Board of Governors to exercise its authority to force a sale of the team and will do everything in my power to ensure that that happens," Silver said.
After completing his statement, Silver took questions on Sterling, including several about the possible sale of the team. He conceded that he cannot force Sterling to sell on his own but expressed confidence that he has the support of the league's other owners. Silver will need three-fourths of the remaining 29 owners agree to his recommendation in order for Sterling to be forced to sell the team, reported The Associated Press.
"I fully expect to get the support I need from the other NBA owners I need to remove him," Silver said.
Following the press conference, the league's other franchise owners began voicing that support in statements lauding Silver's decision.
Commissioner Silver has made the right moves in response to this unfortunate absurd spectacle. #ZeroTolerance

— Dan Gilbert (@cavsdan) April 29, 2014
Great leadership today from @NBA Adam Silver. Very clear message about who we are as a league & where we're going. #NBA3.0 #secondthemotion

— Vivek Ranadivé (@Vivek) April 29, 2014
I agree 100% with Commissioner Silvers findings and the actions taken against Donald Sterling

— Mark Cuban (@mcuban) April 29, 2014
Sterling, 80, has been the center of a controversy that transcended the NBA since a recording of racist remarks he made during an argument were released by TMZ and Deadspin. In the recordings, Sterling told V. Stiviano not to bring black friends to Clippers games or to post photos of herself with black people, including NBA legend Magic Johnson, on her Instagram account.
"The views expressed by Mr. Sterling are deeply offensive and harmful; that they came from an NBA owner only heightens the damage and my personal outrage, Silver said early in his remarks on Tuesday. "Sentiments of this kind are contrary to the principles of inclusion and respect that form the foundation of our diverse, multicultural and multiethnic league."
BEFORE YOU GO