Former General Electric CEO Jack Welch launched into a cantankerous tirade on CNBC's "Squawk Box" Tuesday morning, taking the whole "corporations are people" thing further than former Republican presidential hopeful Mitt Romney ever dared.
"I happen to believe corporations are people," Welch said, while CNBC producers tried to play music in order to end of the segment. "Corporations sweat. They cry. They bleed. They do all these things."
"And the idea that they're just bricks and mortar is nonsense," he added.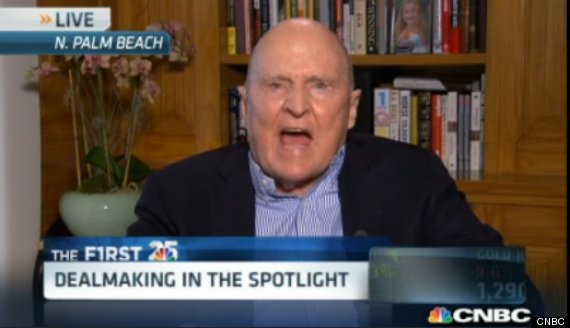 Welch was on the show to discuss pharmaceutical giant Pfizer's apparent plan to reincorporate as a British company -- in what some believe is an attempt to avoid U.S. corporate taxes -- but admitted he frankly had not yet formed an opinion on whether the federal government should try to intervene to stop the drug maker's move.
The man has quite the penchant for rattling off controversial statements. Right before the 2012 presidential election, Welch baselessly suggested that the Bureau of Labor Statistics manipulated the country's unemployment figures to help President Obama's reelection chances:
Unbelievable jobs numbers..these Chicago guys will do anything..can't debate so change numbers

— Jack Welch (@jack_welch) October 5, 2012
During an appearance on MSNBC's "Hardball" later that day, he admitted: "I have no evidence to prove that."