When Eldad Hagar goes on a mission to rescue a homeless dog, it's usually quite a challenge. Often abandoned by their owners and sometimes the victims of abuse, the animals can be skittish, scared and initially wary of human touch.
But when Hagar, co-founder of Hope for Paws animal rescue, went to rescue Jill -- an abandoned pooch living on the streets of Los Angeles -- something was different.
Hagar told The Huffington Post that Jill had been sitting on the street corner for weeks, crying for her owner to come back. "Many times this is the case with abandoned dogs -- they just sit at the spot where they were abandoned, and they just wait, believing that their owners will come back," he said.
But despite her hardship, Jill's capacity for love and joy was not at all diminished.
In the video above, watch what happens when Hagar and Victoria Van Violence -- a model from Germany who assisted Hagar on the rescue -- approached Jill to save her. (Hint: It's pretty darn awesome.)
"This was definitely the easiest rescue ever," Hagar said of the experience.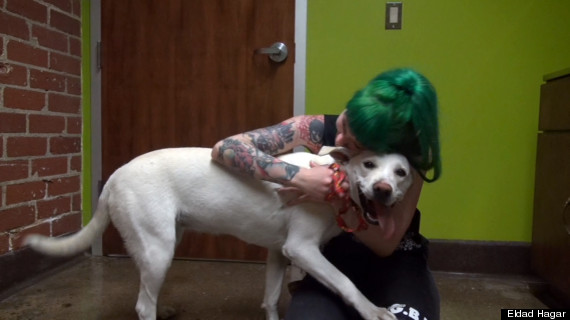 Victoria Van Violence snuggles up to a very happy Jill after the dog's rescue
Jill is currently in foster care. To find out how you can adopt her or other beautiful animals like her, visit Death Row Dogs Rescue's Facebook page.