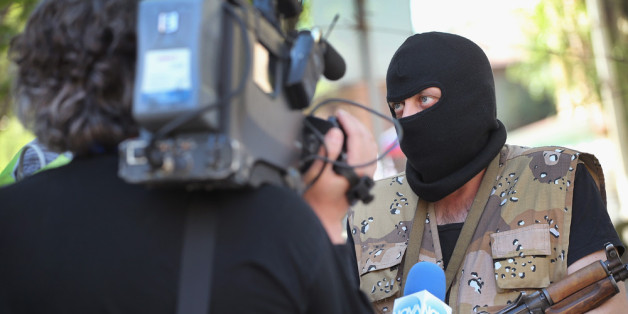 Reporters Without Borders called for an immediate end to the mistreatment of journalists after citing the many attacks on the media in April alone.
The organization said it was "alarmed" by the increase in violence and threats to reporters that is "exacerbating an intense information war."
"Reporters Without Borders appeals to all parties to immediately stop treating news providers as targets to be neutralized or controlled," RWB said on its website Tuesday.
The call to action focused mostly on the rising number of journalist abductions in and around Sloviansk, a pro-Russian controlled city in eastern Ukraine. Nineteen media personnel have been arrested in Sloviansk since April 1, according to the Institute of Mass Information (IMI). Several others have gone missing or been held hostage in April, including journalist Serhiy Shapoval of the Volin'Post website, who RWB said has been "unreachable" since April 26.
"Designed to create a reserve of hostages and intimidate other journalists, these abductions are intolerable," the head of the Reporters Without Borders Eastern Europe and Central Asia desk Johann Bihr said. He called on anyone with force over Sloviansk's self-proclaimed authorities to "do everything in their power" to put an end to these crimes against reporters.
But the city's self-proclaimed mayor Viacheslav Ponomarev has said he will not tolerate any journalists' "lies."
"We are forced to resort to such measures because many journalists have been transmitting deliberately false and unverified information," he said. "We have all the data of the journalists and we can immediately follow what they write. If someone lies, we ask them to leave the city at once."