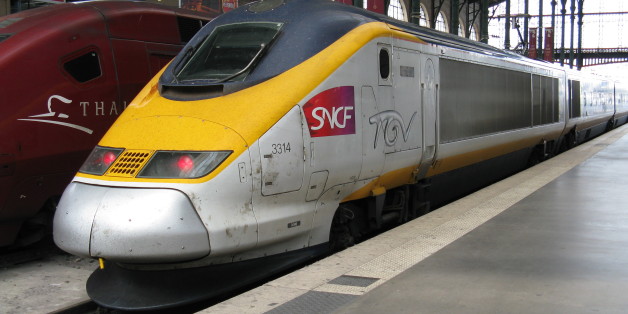 Two New York City lawmakers say the city shouldn't do business with a French rail company that transported 76,000 people to Nazi concentration camps during World War II.
City council members Mark Levine and Benjamin Kallos will introduce a resolution Tuesday that would "prohibit New York City from contracting with companies that profited from the Holocaust, but have never compensated victims."
"My family is among millions of others to lose our loved ones in the Holocaust," said Kallos in a statement. "For those corporations that profited from those deaths but failed to make the families of victims whole, I say, 'We will never forget.' I call on my colleagues in government to tell these corporations that 'we will never forget,' and to stop doing business with the corporations until they finally remember!"
The resolution, whose introduction was first reported by Capital New York, calls on state legislators to pass, and Governor Cuomo to sign, legislation that would bar such companies and their affiliates from receiving government contracts.
According to a press release, the resolution is partly aimed at Societe Nationale des Chemin de fer Francis (SNCF), a French rail company. Keolis, an American company in which SNCF is a shareholder, recently won rail contracts in Virginia and Massachusetts, and is in the bidding for another lucrative contract in Maryland and Washington D.C.
Levine and Kallos released their statements in coordination with U.S. Rep. Carolyn Maloney (D-Manhattan), who has legislation in Washington seeking reparations from SNCF for American victims of the Holocaust.
A spokeswoman for Keolis told The Huffington Post that the company is aware of the New York City resolution and and has no specific comment at this time.
Meanwhile, Alain Leray, president of SNCF America, has denied that the train company profited from the Holocaust. He told Capital New York that the resolution -- and a similar resolution in the state legislature -- "completely ignores historical facts."
It's the same argument he made in a March editorial in The Baltimore Sun. When Nazis took over the SNCF in 1940, Leray wrote, "laws of war were applied, and even the slightest resistance was punishable by death."
"Those resistors include more than 2,100 SNCF railroaders that were murdered for defying the Nazis," he added. The company, Leray argues, could not have profited from the holocaust, as after the war it was left in "ruins, having been looted and decimated by the Nazis."
He also pointed to a recent deal between SNCF and national transit provider Israeli State Railway, who "signed a strategic cooperation agreement in the presence of Israeli Prime Minister Benjamin Netanyahu," as evidence that New York's resolution is off the mark.
But France has previously paid compensation to those deported to concentration camps on SNCF trains, and their families. The recipients of those reparations, however, were only in Belgium, the Czech Republic, Poland, and the United Kingdom.
The company has thus far been immune to U.S. litigation because of the Foreign Sovereign Immunities Act. Leray argues that it's the French government, after all -- not SNCF -- that owes American holocaust survivors reparations.
"All matters related to deportations in France are the sole province of the French state," he told Capital New York. "It is the French state which failed to protect the nation in 1940. It is the French state which collaborated with the Nazis. It is the French police that arrested the deportees and it is therefore and consequently the French state that pays compensation and reparations directly linked to deportations."
Earlier this month, the U.S State Department issued a statement saying that "the United States and France have entered into discussions of compensation for victims of deportations by rail from France to Nazi labor and death camps as well as for victims' families."
"Recent initiatives of certain state legislatures, such as New York and Maryland, have begun to pose a serious obstacle to achieving this goal," the statement continued. "We strongly urge all concerned to avoid actions that undermine the ongoing compensation talks."
Last year, United States Senator Chuck Schumer (D-NY) introduced a measure that would open SNCF up to litigation in U.S. courts.
An online petition started by holocaust survivor Leo Bretholz to get SNCF to pay reparations in America currently has over 160,000 signatures.