Lucasfilm and Disney blew up the Internet on Tuesday afternoon by officially announcing the cast for "Star Wars: Episode VII" and releasing a photo from the film's first table read.
"We are so excited to finally share the cast of 'Star Wars: Episode VII,'" director J.J. Abrams said in a statement that accompanied the announcement. "It is both thrilling and surreal to watch the beloved original cast and these brilliant new performers come together to bring this world to life, once again. We start shooting in a couple of weeks, and everyone is doing their best to make the fans proud."
Abrams is notoriously tip-lipped when it comes to his productions -- he didn't even reveal that Benedict Cumberbatch was playing Khan in "Star Trek Into Darkness," when even the film's IMDb page included the information -- so don't expect too many public tidbits about "Episode VII" between now and its Dec. 18, 2015 release date. Fortunately, that doesn't prevent us from wildly speculating about what the black-and-white cast photo means. Ahead, five theories about "Episode VII" based on the official picture from its table read.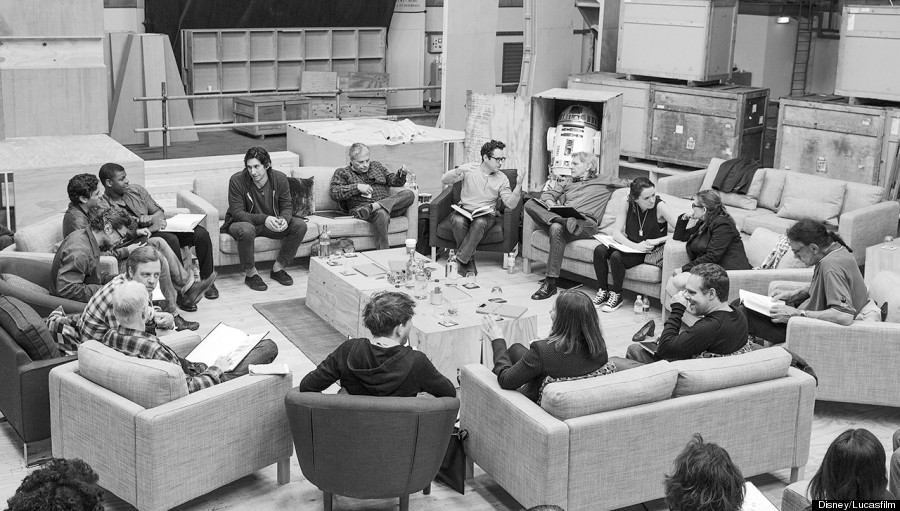 Daisy Ridley could be the daughter of Han Solo and Princess Leia. Sure, it's assumed that Ridley is playing a descendant of Obi-wan Kenobi, but then why is she sitting between Harrison Ford and Carrie Fisher?
Andy Serkis could play a motion-capture creature who is best friends with Luke Skywalker. Just look at how close Serkis is to Mark Hamill.
Adam Driver and Domhnall Gleeson could play brothers on opposite sides of the Force. Driver and Gleeson look so much alike that it would make sense if they were related in "Episode VII." If that's the case, though, then why are they on opposing sides of the "Star Wars" circle of trust?
Oscar Isaac and John Boyega might be the new Han Solo and Luke Skywalker. We can only hope.
Flannel shirts are the new Jedi uniform. Just ask Hamill and that guy who we assume is Max von Sydow. Or maybe Anthony Daniels?
BEFORE YOU GO
PHOTO GALLERY
Celebrity News & Photos