Throughout the last few days, the price of Los Angeles Clippers tickets has taken a path nearly as bumpy as Donald Sterling's.
Nowhere is this better illustrated than in the price for tickets to Game 5 of the series between the Los Angeles Clippers and the Golden State Warriors: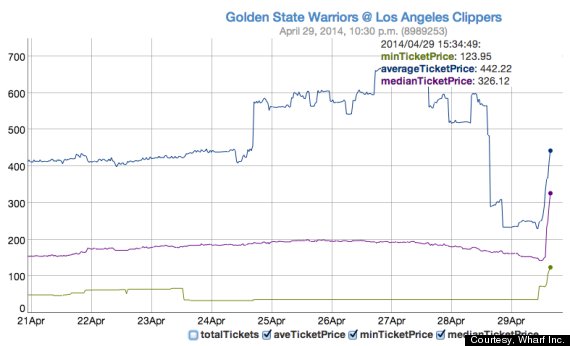 According to data supplied by TicketSpy.in, a ticket resale analytics website, the average price for a Clippers ticket plummeted Monday from a high of $598 to just over $289. By Tuesday afternoon, the average price had dropped even lower, bottoming out at $229.63.
Hours later, shortly after news broke of Sterling's permanent ban from the NBA, the average ticket price skyrocketed. The average price peaked Tuesday night at $528.02.
The median ticket price, meanwhile, also took a sharp upward turn. After hovering near $180 for several days, the median increased to $326 -- a price significantly higher than before the scandal even broke.
In an interview with Bloomberg Tuesday morning, Dave Landau, who runs TicketSpy, explained it makes sense for the average ticket price to have fluctuated more than the median price. The average -- computed by adding up all the ticket prices then dividing by the number of tickets -- is more heavily skewed by the expensive seats.
Those expensive seats were dumped en masse by high rollers who likely did not want to be seen sitting courtside, lest they be mistaken for supporting Sterling. Now that Sterling is gone, there's apparently a rush to get back in.
In the timeless words of Jerry Maguire: "Show me the money!"
BEFORE YOU GO