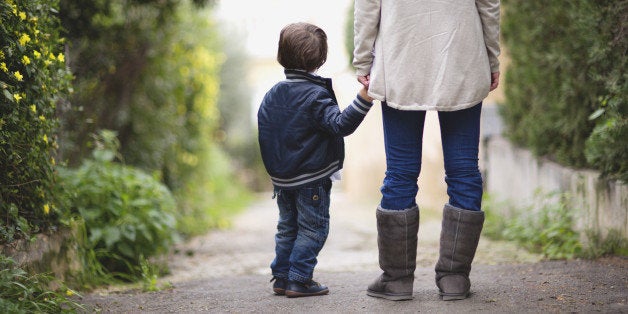 "This Is Divorce At..." is a HuffPost Divorce series delving into divorce at every stage of life. Want to share your experience of divorcing at a certain age? Email us at divorce@huffingtonpost.com or tweet @HuffPost Divorce
What's it like to be making arrangements for your second divorce when all your friends are busy planning their first weddings? It's as jarring and lonely of an experience as you might expect, says Natalie Nyquist, a young mom with two divorces under her belt.
"I was married at 23, remarried at age 25 and divorced again at 28 with a tiny baby in tow," she said. "Life, clearly, has been an adventure."
Below, Nyquist tells us more of her story and shares with us her best advice for young divorcᅢᄅs struggling to make sense of life after a separation.
My first marriage lasted less than four months, in large part due to the strain of being in a military marriage. I was 24. By the time my photos from the wedding photographer arrived, I was already separated from my husband. I still felt like a kid -- too young to have been married, much less divorced. The suddenness of it all left me reeling.

I didn't know anyone divorced near my age, and I assumed everyone judged me for messing up my life so quickly. In reality, most people were kind, though awkwardly so. Many of my friends were still single or planning their weddings. As they began marrying and my Facebook feed began to clog with romantic photos of their first this-and-that together, I felt alone in my grief. I battled severe depression and stopped eating. I expressed my pain through being hard on my body (not recommended).

I remarried at 25 and divorced again at 28. I had a three-week-old baby and no idea what to do. It took me a few years to get myself to a balanced place physically and emotionally. Now that I'm healthy and love my life, I'm thankful for the strength and confidence I have as a result of working through all the pain. I even write about it. (Also not necessarily recommended! As if word doesn't already get around that you're divorced within your neighborhood, my divorces were analyzed and discussed online because of my then-popularity as a blogger -- two divorces did wonders for that.)

So from all that experience, what's my advice for any twenty-something currently going through a divorce of his or her own? Take any future relationship slowly. I remarried too quickly and would love to spare others that heartache by recommending they slow down. Having the so-called stigma of a divorce is bad enough without having to tell people you've been divorced twice. More importantly, as many of us already know, being single is infinitely better than being in a bad marriage.

Try to find humor wherever you can. My sense of humor is a bit twisted, but making light of things helped me get through the day, even if no one else got my jokes. One hard event was my brother's wedding, which occurred during my first divorce proceedings. I made it all the way through the ceremony, but when my brother hugged me at the reception, I lost all control. I pulled the whole "run to the bathroom and cry hard, then pretend you're fine" routine. Then my grandfather and I began dancing and we started talking about my need for a divorce lawyer. I started crying, but it quickly turned into us laughing at the absurdity of it all. Sometimes the bizarreness of our life as newly divorced person means you do a lot of crying. If you can, choose to laugh.
BEFORE YOU GO
PHOTO GALLERY
Young Celebrity Divorcees