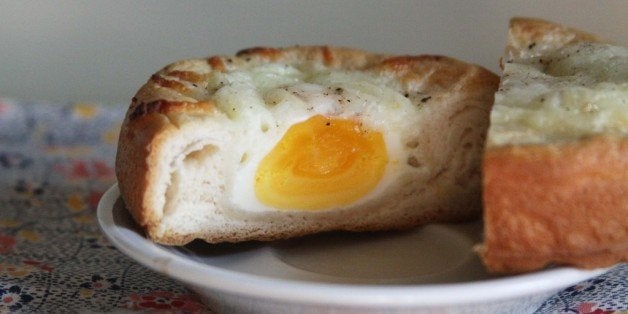 Breakfast can be a difficult affair. With the fog of sleep just barely lifted from your brain, it's hard enough to think about making coffee let alone having to worry about getting food into your mouth. While we'd love to wake up every day to epic breakfast sandwiches like the one Marc Forgione makes, our lives just aren't always that ideal. That's why we've made it a point to bring you easy, can-do-it-with-your-eyes-closed breakfast options like the Eggocado and toast cups.
But today we have something really special. Something that's not only easy, but absolutely worth waking up for: the egg in a biscuit.
Egg in a biscuit is like a biscuit sandwich, only better. Where the egg biscuit sandwich is a harmonious combination of eggs and biscuits, an egg IN a biscuit is a more committed version of these two ingredients. Eggs and biscuits don't just come together on a plate -- they've been baked together, forged as one. It's a commitment you can taste.
I first discovered this holy grail of breakfasts when stumbling into the Hungry Ghost Bakery in Northampton, MA, one cold New England morning. In the need for something quick, filling and completely decadent, I settled on a tall biscuit with an egg in it. I couldn't see the egg, but the dimple on top of the biscuit let me know I should believe. The first bite was a buttery and crumbly biscuit. This was a pretty good start. The second bite gave way to a hard boiled egg with a still slightly yolky center and a beautifully thin layer of melted cheese on top. The third bite I can't even remember, because I was deep in an egg-biscuit trance.
If you won't be passing through Western Massachusetts anytime soon, you're going to want to make this glorious breakfast in your own home. You can get them ready the night before for an easy breakfast in the morning. It will be the best thing you've done in a long time. We recommend letting food blogger Espresso and Cream walk you through the process. Go to her site to check out the recipe. Espresso and Cream uses Pillsbury biscuits for additional ease, but we recommend giving it a try with homemade biscuits.
BEFORE YOU GO
PHOTO GALLERY
Biscuit Recipes