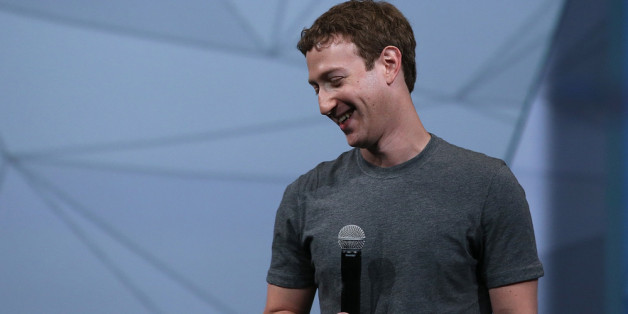 When a social network loves its users very, very much, it helps them get some of their privacy back.
Mark Zuckerberg tried to convey an image of a beneficent Facebook at the company's f8 conference Wednesday, introducing an update that would let members claw back the personal information they share with third-party applications. Zuckerberg said that he'd been doing a lot of thinking on the eve of his 30th birthday, and had decided Facebook must "build a culture of loving the people we serve." He added, "I hope you can see the seeds of this in what we're building today."
There's no doubt Facebook's new login policy does a service to its members, who will now be able select what data from their profiles is available to an app, or even log in "anonymously," not sharing information with the app at all.
But a compassionate act of love? A sign of Facebook's undying commitment to "put people first," as Zuckerberg said was his priority? Not quite.
Though framed as a privacy safeguard, the latest login options are just another way for Facebook to learn even more about its members' activities online. If logging in with a Facebook identity appears trustworthy, Facebook's users will be more inclined to tote Facebook with them to third-party services, which in turn will give Zuckerberg a more complete picture of what his users do around the Internet. The company wants people to take Facebook everywhere they go -- Gilt Group, Paperless Post, One King's Lane, Spotify -- so it can learn what its members love and improve its ad-targeting abilities.
Giving people more control over what personal information third-party services can access will "definitely benefit Facebook," said Debra Aho Williamson, an analyst with eMarketer. "Any time you use Facebook to log into an app, Facebook can capture that information and use it for its own ad targeting."
As Zuckerberg noted Wednesday, many people currently hesitate to "Log In with Facebook" when signing into a service. They worry that letting an app access their Facebook account could mean mortifying purchases will appear in friends' News Feeds (they might!), or spam messages will inundate their colleagues (also possible!). So instead, people opt for the hassle of creating a new username, or else rely on another one of their accounts, such as Gmail or Twitter.
When this happens, Facebook loses out on the chance to add to its understanding of who we are and what we do. Bypassing the Facebook login means that Facebook might never discover your love for online dating apps or photo-editing tools -- information that's crucial for sweetening Facebook's pitch to advertisers, and particularly key as the company makes a push for developers' ad dollars.
"If people log into apps through Facebook's login, then Facebook knows more about the user. It knows more about the apps they use, how many apps they're using and how often," said Nate Elliott, an analyst with the research firm Forrester. "That gives Facebook the theoretical ability to better target apps to users and [the] theoretical ability to understand the apps that they're using."
Developers lose the most in Facebook's ostensibly compassionate shift toward more private logins: App creators will no longer get to help themselves to their users' personal information, and will, in some cases, have to deal with unidentified individuals who try Facebook's new "log in anonymously" option. Elliott said that when Zuckerberg announced the new policy, the audience at the f8 auditorium, which consisted mostly of developers, was silent.
Zuckerberg's alleged soul-searching should perhaps prompt users of his site to do the same. Can they trust a "loving" Facebook? And will it really be so different from the kind of Facebook they knew before?
"Privacy is like a yo-yo for Facebook," said Elliott. "Sometimes it's near, and sometimes it's far."