Joanne Murphy came back from a recent vacation to find that part of her office had been transformed into a princess room for a pit bull named Sydney.
There's a toddler bed with a shiny hot pink spread, a pink food bowl, a pink lamp, and "she even has her toenails painted pink," says Murphy, who is the volunteer coordinator for the Delaware SPCA, and was therefore delighted to discover this royal improvement in her workspace.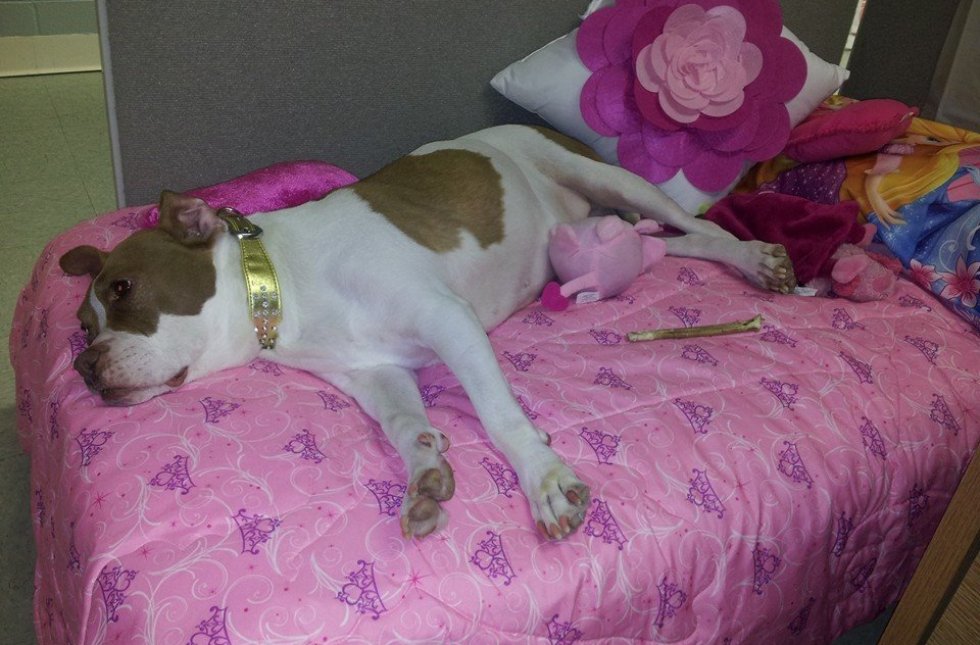 Guys, it's exhausting being a pit bull princess. Photo credit: Delaware SPCA
Murphy had first noticed fancy dog digs on the Facebook page for the Villalobos Rescue Center, the setting for the TV show "Pit Bulls and Parolees," "where they had made a princess room for one of their pit bulls who is stressed in a kennel setting," she says.
Murphy showed the picture to some friends. Three of them, who volunteer at the shelter -- it's Delaware's oldest animal welfare group -- built the bed frame, bought the mattress and installed all the rosy-colored trimmings during her three-day absence.
"It was a wonderful surprise to walk into," says Murphy.
Sydney is a 5-year-old pit bull/English bulldog mix who well deserves these extras. She first came to the shelter on Valentine's Day in 2011, having been seized by law enforcement due to owner neglect: She had been chained outside, and was heartworm positive and very skinny at the time of her arrival. An "older lady" adopted Sydney a few months later, says Murphy, but returned her this past fall.
By then the dog was "fat and very sad," says Murphy. "She broke my heart. In her kennel she would just lay facing the back wall. And outside, when a volunteer would sit down with her, she would just lay in their lap until their legs fell asleep."
An 11-year-old pit bull named Keno, given up by an owner who didn't want an old dog, had long been the group's office pup. But when he was adopted, Sydney was brought in to take his place, spending her day in the staff quarters. Murphy says the original idea was to rotate the shelter's animals through, so each one would get their turn in the office, "but after Sydney came in the first day, she never left."
Shelter staff are always trying to make the animals more comfortable. The cats and dogs will live at the no-kill facility until they are adopted or until they die. Some receive special blankets, while others get quiet space where they can take a break from the hubbub.
For her part, Sydney, who loves attention, was "deemed a princess," says Murphy. She has had more than one sparkly crown placed upon her head, and this is not the first time she's been forced to endure a pink pedicure.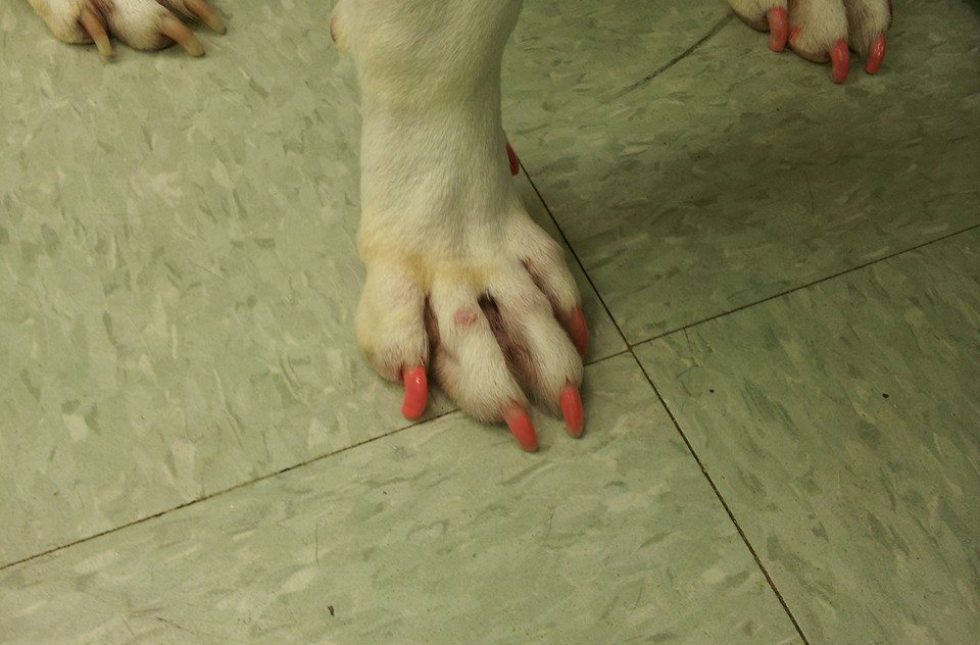 Photo credit: Delaware SPCA
"We didn't really think of a 'message,' just Sydney," Murphy says. "Hopefully people will see that there are a lot of good people in the world who care about animals and that shelter dogs are deserving of special treatment."
Check out more photos of the pit bull and her princess room on the "Sydney and my life as a shelter office dog" Facebook page.
Do you know a good animal story? Want to send us a photo of your pit bull dressed up like a princess? Get in touch at arin.greenwood@huffingtonpost.com
BEFORE YOU GO
PHOTO GALLERY
Your Pit Bulls