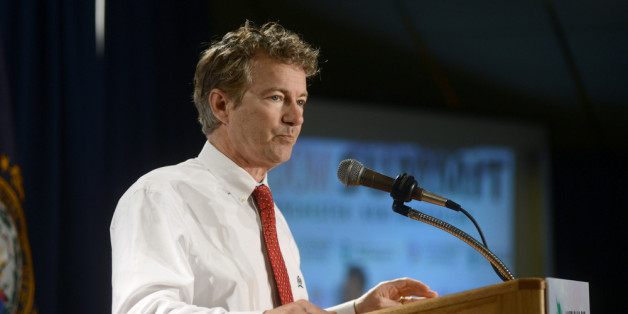 Sen. Rand Paul (R-Ky.) will head to North Carolina next week in a last-ditch effort to boost a candidate favored by the tea party over the pick of the Republican establishment in the state's GOP Senate primary.
Paul told Politico on Wednesday that he'll stump on Monday for obstetrician Greg Brannon, a conservative candidate trying to pull out an upset despite widespread support for the presumed front-runner, state House Speaker Thom Tillis.
If no candidate gets 40 percent of the vote Tuesday, the top two vote-getters will proceed to a runoff for the Republican nomination. The primary winner will try to unseat Sen. Kay Hagan (D-N.C.) in November.
"I have decided today I'm going Monday to campaign for Greg Brannon in North Carolina," Paul told Politico. "I think it's pretty close there actually, and there's a chance we can help him enough to push him over the top."
When Paul was asked if he is worried he would be held responsible if Brannon loses to Hagan in November, the senator said: "No. I think we're going to do everything we can to get him to win, though."
North Carolina Gov. Pat McCrory (R) endorsed Tillis this week, saying the speaker represents the party's best chance to defeat Hagan. Outside groups such as Karl Rove's American Crossroads and the U.S. Chamber of Commerce have also spent on Tillis' behalf
The Republican primary has been marked by back-and-forth accusations of impropriety and ethics violations, as Brannon criticized Tillis for offering taxpayer-funded severance pay to his staffers who admitted to having affairs with lobbyists, while Brannon was found responsible for misleading investors in a technology startup he co-founded.
In October, Brannon spoke at a rally that supported the idea that states can invalidate federal laws. He also co-sponsored the rally, alongside a secessionist group.
HuffPost Pollster, which combines all publicly available polling data, shows Tillis leading Brannon by about 7 percentage points, with the Rev. Mark Harris trailing behind.
BEFORE YOU GO
PHOTO GALLERY
Senate Seats Up For Grabs In 2014