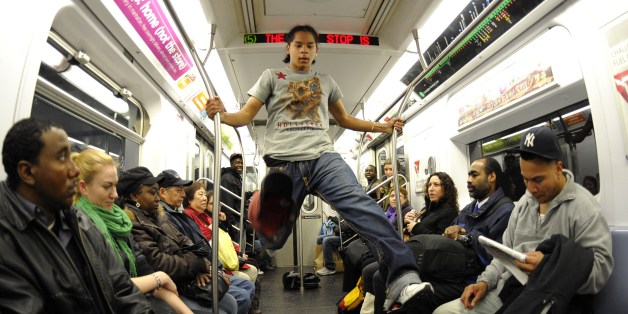 "What time is it?" "Showtime!"
It's the call and response any New Yorker on the subway knows. It happens when the city's "hitters" -- typically young men who perform acrobatic feats of breakdancing in subway cars, then ask for your spare change -- launch into a performance.
But for the NYPD, "showtime" is a quality-of-life concern, and officers are arresting hitters at an alarming rate.
NBC New York reports that 46 subway dancers have been arrested and charged with reckless endangerment in the first four months of 2014. That's compared to just two such arrests in all of 2013. Another 50 dancers this year have been arrested for the lesser charge of disorderly conduct.
To catch the hitters, the NYPD is relying on the Metropolitan Transit Authority to alert police of riders' complaints. Subway passengers have complained in the past that the performers dance too close to passengers' faces, risking injury.
"People have the right to have a safe, pleasant ride on those subway cars," NYPD Commissioner Bratton said back in March. The crackdown on subway dancers is part of Bratton's "broken windows" theory of policing, which holds that targeting smaller crimes prevents more serious crimes from occurring.
According to NBC, the NYPD has also cracked down this year on subway peddling and panhandling. Police have arrested 120 people so far this year for selling goods on the subway without a license, an 81 percent increase from the same period last year. Police have also arrested 371 people for asking for money on the train this year, a 271 percent increase from the same four months last year.
BEFORE YOU GO
PHOTO GALLERY
NYPD Crackdown On Subway Acrobats